Sam Reamey Clark Sr.
Hot Springs, AR, 1923 - 2014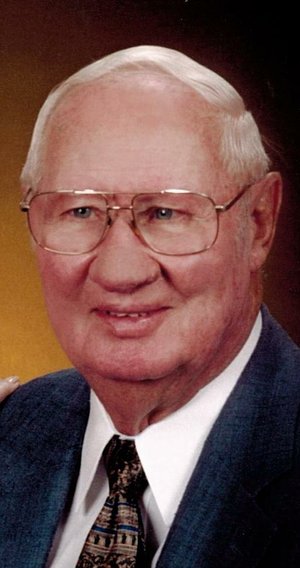 Sam Reamey Clark Sr., 90, went home to be with his Lord and Savior on March 24, 2014 at West Shores Retirement Center in Hot Springs, Ark. He was born on May 14, 1923 in Malvern, Ark. to Letty Reamey Clark and Thomas M.D. Clark. He was married for 64 years to the love of his life and late Lucille Mason Clark. Sam was predeceased by brother, Madison D. Clark; and sisters, Lethe Clark Swaim and Francis Clark Watson; and grandson, Matthew Robert Clark of Frisco, Texas.
Sam lived his entire life in the Malvern and Hot Springs area. After his mother passed away he was raised by his uncle and aunt, Isaac H. and Thelma Clark Roland. He was a graduate of Malvern High School and attended the University of Arkansas in Fayetteville where he was initiated into Alpha-Zeta Chapter of Pi Kappa Alpha fraternity Oct. 19, 1946.
Sam was a WWII veteran who enlisted Dec. 9, 1942 in the U.S. Army Air Corps, (10th Air Force), 7th Bomb Group, 493rd Squadron. He achieved the rank of Staff Sergeant, serving as a nose gunner in a B-24 Liberator, in the Burma-India-China Theater. He received two Bronze Stars for heroism and the Victory Air Medal. On Nov. 21, 1945 he was honorably discharged.
His 40-year career in the construction materials business began in 1948 with Roland Ready Mix. In 1950, he began serving as General Manager for Malvern Gravel Company. In 1966, Sam established Mid State Construction and began building interstate highways, bridges and various other construction projects throughout south Arkansas.
Sam was a former Director of Bank of Malvern and served for 11 years on the Malvern School Board holding offices such as president and secretary. He was also a past board member of the Arkansas General Contractors.
He was a member of the First United Methodist Church in Hot Springs and was instrumental in starting The Caring Place, 101 Quapaw Avenue in Hot Springs.
Sam and his wife, Lucille, were donors to the Arkansas Children's Hospital in Little Rock establishing a pediatric eye wing.
Loving survivors are children, Jan (Greg) Schmitz of Frisco, Texas, Sam Reamey Clark Jr. of Hot Springs, John Mark (Sandra) Clark of Frisco, Texas and Philip Roland Clark of Keller, Texas; sister-in-law, Claudia Mann Mason (99); and grandchildren, Sam Clark III, John Wesley Clark, Sarah B Clark, Byron Mason Clark and Philip Brady Clark; and special lifelong friend, Melba Yates.
He will greatly be missed by his family and friends but his memory will live on if we use his life as a roadmap to make the world a better and more humane place.
The family wishes to express its love and deep appreciation to his loyal and dedicated caregivers for the past two years James Johnson (JJ), Ken Wachtendorf, and Kevin Ross who were so caring and compassionate in his final days. The family would also like to thank the Staff of West Shore Retirement Center and Arkansas Hospice of St. Joseph's Mercy Health Center for their wonderful care.
Visitation will be held on Monday, March 31 at Caruth-Hale Funeral Home from 5-7 p.m. A memorial service will be held at 10 a.m. Tuesday at First United Methodist Church in Hot Springs. In lieu of flowers, please make memorials to the Caring Place, 101 Quapaw Avenue, Hot Springs, Ark. 71901, or the Sam and Lucille Clark Eye Foundation c/o Arkansas Children's Hospital, Little Rock, Ark.
Guests may register at www.caruth-hale.com.
Published March 30, 2014
OBITUARY SUBMITTED BY:
Caruth-Hale Funeral Home
155 Section Line Road, Hot Springs, AR
Phone: 501-525-0055
http://www.caruth-hale.com