Thomas Scott Dabney II
Lake Village, AR, 1917 - 2014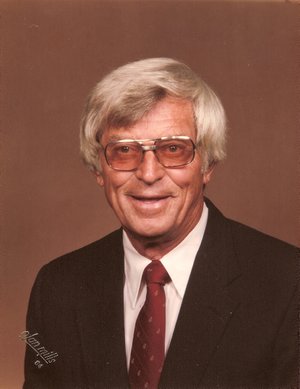 Thomas Scott Dabney II, long-time resident, business man, and civic leader of Lake Village, Ark., died on March 26, 2014, at the age of 97. Born on Jan. 23, 1917 the son of Alva Earl Dabney and Catherine Elizabeth "Bess" Bailey Dabney in Helena, Ark. After graduating from Lakeside High School in 1933, being too young for college (16) Scott worked days at the City Drug Store located on Court Street across from the court house square and at night entertained with his dance band which he advertised as "Scott Dabney and his Orchestra. Music that pleases; rhythm that teases." He attended Marion Institute in Marian, Ala., the United States Naval Academy in Annapolis, Md. Scott earned a Bachelor of Science Degree in Electrical Engineering from the University of Texas. It was here that he met and married Mary Julia Armstrong, daughter of James Edward "Doctor" Armstrong and Mattie Othello Hagood.
In 1941, Scott went to work as an electrical engineer for the General Electric Company, first in Houston, Texas, then in Schenectady, N.Y., and then in Beaumont, Texas. During World War II, Scott worked 16 hours a day, seven days a week, designing and commissioning electrical systems manufactured by General Electric and installed into war ships. On Dec. 1, 1946, based on work during the war, General Electric awarded Scott the company's most prestigious award for achievement in the field of electrical engineering--the Charles Coffin Award. From 1943 to 1955, he lived in Beaumont and Dallas working for General Electric Company, and became an expert in Diesel-Electric oil drilling rigs.
Scott returned to Lake Village in 1955, and after farming briefly at first, he started a surveying company which became Dabney Engineering, a company that expanded from surveying into Civil Engineering and utility construction with projects throughout Arkansas and in Mississippi and Louisiana. He held the position of Chicot County Surveyor in the 1960's. In 1977 he became president of Lake Village Chamber of Commerce where he fought with others to keep the Lake Chicot Restoration project from succumbing to a federal budget cut.
In April 1977 Scott married nee Dorothy Jean (Dot) Rhodes.
Scott retired at the age of 91, lived in Flat Rock, N.C. with daughter Sandra, and this last year moved to Tomball, Texas to live with son George. In his life he loved playing golf, playing music, and especially being with his family and friends.
He is preceded in death by his wife, Mary Julia Armstrong; grandson, Davis Lowry; second wife, Dorothy Rhodes; and step-daughter, Sharon McCord. Scott is survived by his three children, Tommy and wife Sherry Dabney of Plano, Texas, Sandra and husband Jim Thaxton of Flat Rock, N.C., George and wife Barbara Dabney of Tomball, Texas; four step-daughters, Donna and husband Gary Belyeu of Memphis, Tenn., Glenna Ridgway of Memphis, Tenn., Polly and husband John Fricke of Bryant, Ark., Jenny and husband Rick Avery of Bella Vista, Ark.; 23 grandchildren; and 12 great-grandchildren.
Visitation is from 1-3 p.m. Sunday at Bishop Funeral Home. Funeral services are 2 p.m. Monday, March 31, 2014, at Lakeside United Methodist Church with Rev. Rita Kopecki officiating. Burial will follow in Lake Village Cemetery under the direction of Bishop Funeral Home of Lake Village.
In lieu of flowers the family suggests that you may wish to donate to your favorite charity.
Published March 30, 2014
OBITUARY SUBMITTED BY:
Bishop Funeral Home
1831 S Highway 65 82, P.O. Box 825, Lake Village, AR
Phone: 870-265-6166