James Lamar Maples Sr.
Sheridan, AR, 1934 - 2014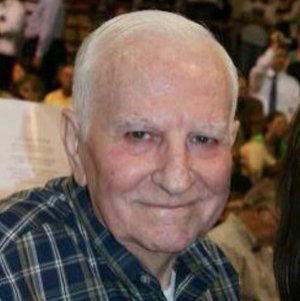 James L. "Lamar" Maples Sr., 79 years old, passed away April 29, 2014. He was born in Oxford, Mississippi to Virgil E. and Ella Quay Maples.
He was preceded in death by his wife, Mary Ann Maples, his parents, and a grandson, Matthew McMillan. He is survived by one brother, E.J. "Sonny" Maples and wife Virginia of Oxford, Mississippi, Velma Lewis Becker of Jackson, Mississippi, Myrtle McLarty of Camden, Tennessee, and Betty Hargrove and husband Bobby of Decatur, Alabama. He also leaves his children, Dona Bowry and Rob of Sherwood, James L. "Jimmy" Maples, Jr. and Jeanene of Sheridan, and Anita Ott and John of Scott; grandchildren, Kristina McCammon, James and Serena Maples, Chris and Rebecca Rutherford, Jessica Ott, and Adam Ott; six great-grandchildren; a host of family, friends and a special friend, Shirley Sanford.
Services for Lamar Maples will be at 2 p.m., Friday, May 2, 2014 at Roller-Citizens Funeral Home. Visitation will be held prior to the service from 10 a.m.-12 noon at the funeral home. Burial will be at Sunset Memorial Park in West Helena.
Pallbearers are Roland Williamson, Bobby Hargrove, James Maples, Chris Rutherford, Adam Ott, Rob Bowry and John Ott. Honorary pallbearers are George Ward, Bob Leatherman, Bill Pierce, Sam Slaughter, Charles Powell and Keith Sanford.
A very special thanks to Doris Hawkins, Lapria Campbell, Summer Bevins, Sommer Holcolm, Marcie Southerland, Kristina McCammon and especially Jeanene Maples, who all served as caregivers , providing Lamar much comfort and love.
In lieu of flowers the family requests that donations be made to Twin City Church of Christ in West Helena or the American Cancer Society.
Services will be directed by Roller-Citizens Funeral Home, West Helena, (870) 572-2571. Friends and relatives may sign the online guest book at www.rollerfunerahomes.com/westhelena.
Published May 1, 2014
OBITUARY SUBMITTED BY:
Roller-Citizens / West Helena
508 E. Plaza St., P.O. Box 2427, West Helena, AR
Phone: 870-572-2571