Albert Hamilton Snider
Bella Vista, AR, 1928 - 2014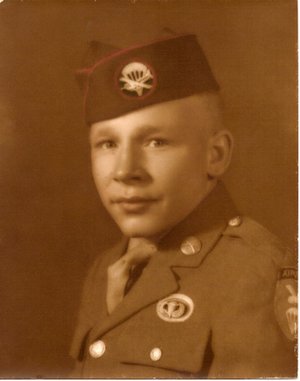 Albert Hamilton Snider, a resident of Bella Vista, Ark., passed away on May 6, 2014, after a brief illness. His passing occurred 17 days after the passing of Bonnie, his wife of 64 years. Bert was born in Lawrenceville, Ill. on Jan. 3, 1928, the oldest of three children of Ray Alexander Snider and Osie Iona Snider. He began working with his dad in a dairy plant at age 13. After graduation from high school, he enlisted in the Army, serving as a paratrooper and cook with the 82nd Airborne Division from March 1946 until Nov. 1947. He married the love of his life, Bonnie Daily, on June 4, 1949 and was the father of two children, Sharon and Carl.
He graduated from Iowa State University with a degree in Dairy Science and continued in that field for his entire working career. After working for several regional dairies, he began a 31 year career with Safeway as Milk Plant or Ice Cream Plant manager in Seattle, Little Rock, Omaha, Los Angeles, and Edmond, Okla.
Both golf and fishing were lifelong passions and retirement to Bella Vista in 1990 provided the opportunity to enjoy both pursuits. He also equipped his basement with woodworking tools and was fond of making quilt stands, storage chests and other wood furniture for family members, and particularly for his two granddaughters.
Survivors include children, Sharon Pollard (Bill) of Conway, and Carl Snider (Linda) of Houston, Texas; granddaughters, Kimberly Pollard and Hayley Snider; and brother, Glenn Snider (Miriam) of San Antonio, Texas; and a host of other family and friends.
A memorial service celebrating the lives of Bert and Bonnie Snider will be held at 2 p.m. on Saturday June 7, 2014 at Bella Vista United Methodist Church (reception will follow). Burial will be in Greenwood Cemetery, Canton, Ill.
Memorials may be made to the Texas Gulf Coast Chapter of the Cystic Fibrosis Foundation, Houston, Texas, Circle of Life Hospice in Bentonville, or First United Methodist Church in Bella Vista. The family gratefully acknowledges the compassion shown by the entire staff at Circle of Life Hospice in Bentonville.
Arrangements are by the Bella Vista Funeral Home & Crematory, 2258 Forest Hills Blvd., Bella Vista, Ark.
Published May 18, 2014