Edwin W. Noller
Bella Vista, AR, 1922 - 2014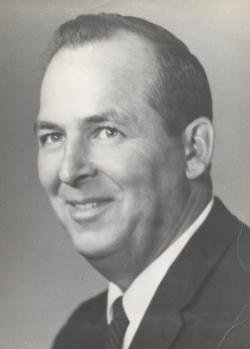 Edwin W. Noller, 91, of Bella Vista, Ark. died on Friday, May 9, 2014 at Circle of Life Hospice, Legacy Village in Bentonville, Ark. He was born May 30, 1922 in Topeka, Kan. to Otto William Noller and Alice Susan (Smith) Noller. He was preceded in death by his parents; three brothers, Willard Noller, Leonard Noller, Art Noller; and one sister, Kate Logan.
He was a member of the Bella Vista Community Church. He served in the U.S. Navy as a fireman on the Island of Guam during WWII. He was a member of the McClellan High School Booster's Club and past-president of Topeka Jaycee's. He was also a member of the Elks, the Moose Lodge and the American Legion. He loved fishing, boating, woodworking, golfing with his grandson, and karaoke.
His is survived by his wife, Patricia A. Noller of the home in Bella Vista, Ark.; three daughters, Tami and Terry Cofer, Lisbeth Vargas and Jane Noller and Bobby Gulledge; five grandchildren, Lauren Williams and husband Wes Williams, Shanna Spann, Jared Schacher, Amanda Cofer and Amy Cofer; three great-grandchildren, Kali, Ava and Lainy Williams.
A Memorial Service will be held on Friday, June 20, 2014 at 2 p.m. at the Bella Vista Funeral Home, 2258 Forest Hills Blvd., Bella Vista, Ark. 72715. In lieu of flowers, memorial contributions may be made to the Fallen Fireman Fund, P.O. Box 8124, Canton, Ohio 44711. On-line condolence may be made at www.funeralmation.com.
Published May 18, 2014