Mary Evalena Hollowell Pool-Berry
of Little Rock, AR, 1921 - 2014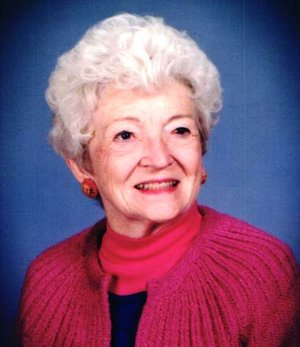 MARY EVALENA HOLLOWELL POOL-BERRY, of Little Rock, Ark. passed away May 15, 2014 at Hospice Home Care of Little Rock at the age of 93. She was born Feb. 5, 1921 in Akron, Ohio, the daughter of James Emmet Hollowell of Joiner, Ark. and Theresa King Hollowell of Heber Springs, Ark.
She graduated from Heber Springs High School and received a bachelor's degree from Arkansas College in Batesville. She later earned a master's degree in education from the University of Arkansas at Fayetteville.
Evalena was a former public school teacher. Her first teaching job was in a one-room school house in the community of Lick Skillet, east of Heber Springs. She retired from the Arkansas Education Association where she served many years as Associate Executive Secretary. In retirement, she was active as a volunteer writing coach for LifeQuest of Arkansas, formerly known as the Shepherd's Center. She lived for 35 years in the
Walton Heights neighborhood, working in her rose garden, researching family genealogy, and
as a member of several book clubs, pursuing her passion for reading. She loved entertaining family and friends at her cabin on the Little Red River. She published several books including Time and the River, a history of Cleburne County, Ark. and Sugarloaf Springs, a retrospective of Heber Springs.
Evalena was a member of Second Presbyterian Church in Little Rock where she served as deacon, elder, and adult Sunday school teacher. Evalena was active in many organizations including Arkansas Pioneers, Daughters of the American Revolution, the American Association of University Women, Arkansas Education Association, National Education Association, and the Cleburne County Historical Society. She received numerous community and public service awards and was inducted into the Senior Arkansans Hall of Fame.
She was preceded in death by her husband, Albert Allen Pool Jr.; husband, Homer L. Berry; son, Albert Allen Pool III; her parents; and brothers, James Hollowell of Little Rock and Raymond Hollowell of Wynne, Ark. She is survived by her brother, George (Linda) Hollowell of Heber Springs; nephews, Mike (Robin) Hollowell of Wynne, Steve (Cindy) Hollowell and Jim (Rie) Hollowell of Little Rock, Bill (Judith) Hollowell and Dan (Jennifer) Hollowell of Heber Springs; great-nephews and nieces are, Ben and Sara Hollowell, Lake and Shayla Hollowell, Megan (Zac) Moore, and Savannah and Sophie Hollowell.
A graveside service will be held at the Oaklawn Cemetery in Batesville, Ark. (Sidney Street and Meyers Avenue) at 11 a.m. Tuesday, May 20, 2014. A memorial service will be held at Second Presbyterian Church (600 Pleasant Valley Drive, Little Rock) at 11 a.m. Thursday, May 22, 2014, with repast to follow.
Memorial donations may be made to LifeQuest of Arkansas, 600 Pleasant Valley Drive, Little Rock, Ark. 72227 or to the Cleburne County Historical Society, 210 North Broadway Street, Heber Springs, Ark. 72543. An online guest book is available at www.husonfuneralhome.com.
Published May 18, 2014
OBITUARY SUBMITTED BY:
Huson
6400 Mabelvale Pike , Little Rock other, AR
E-mail: jtayl@stonemor.com
Phone: 501-565-4644
http://www.husonfuneralhome.com/