R.C. (Raymond Cole) Goodman Sr. MD
Fort Smith, AR, 1920 - 2014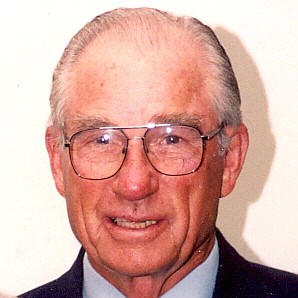 R.C. (Raymond Cole) Goodman Sr. MD was born Sept. 23, 1920 to A. Dolphus and Dona Fletcher Goodman in Ogden, Ark. He completed this life's journey and passed into heaven on May 16, 2014 at home with his loving wife of 71 years, Dorothy, at his side surrounded by family. He was predeceased by his mother and father and one son, Wyndal Martin Goodman.
R.C. grew up in Ogden and was the Valedictorian of his high school class at Ashdown High School in 1938. He joined the Arkansas National Guard in 1939 and began college at Magnolia A & M in Magnolia, Ark. He started and lettered in football for the Mulriders for two seasons in 1939-40. In 1939 he also met the love of his life, Dorothy Louise Martin. In 1940 the Arkansas National Guard was mobilized and R.C., a Sargent, and the rest were sent to Nome, Alaska in early 1941. R.C. returned to the continental United States in 1943 to attend Officer Candidate School. More importantly he and Dorothy married on April 10, 1943. In September 1944 Lieutenant Goodman joined the 102nd Ozarks Division, part of the IXth Army, in Liege, Belgium. He participated in the Rhineland campaign crossing the Meuse River, the Ruhr, Rhine, and finally ended at Stendhal, Germany on the Elbe River. R.C. was commandant of two German towns. R.C. finished the war with the rank of Major and was awarded a number of medals, a few of which are the Combat Infantryman's Badge, two Purple Hearts, and the Bronze Star for Valor. Upon returning home R.C. stayed in the active reserve or National Guard until 1962. R.C. and Dorothy matriculated at the University of Arkansas in Fayetteville. Dorothy graduated in the spring of 1947 and R.C. started Medical School at the U of A in Little Rock in fall 1947, receiving his Bachelor's Degree in spring 1948. In 1951 R.C. graduated with his MD degree. He and Dorothy and three sons were posted in El Paso first and Colorado Spring later. R.C. chose to become an anesthesiologist and had a combined residency at Parkland U Texas Southwestern and the V A Hospital in McKinney, Texas. He was the second anesthesia resident at each program. He became an expert in Regional Anesthesia, Fluid and Electrolyte resuscitation, and a national pioneer in the treatment of chronic pain. R.C. and Dorothy and four sons then came to Fort Smith where R.C. was the first and for several years the only anesthesiologist in the region. He established the R.C. Goodman Institute for the Treatment of Chronic pain at Sparks Hospital. R.C. served Sparks, Mercy, Crawford County Hospitals and the T.B. Sanatorium in Booneville. R.C. was a lifelong Christian and member of the First United Methodist Church for 59 years, and member of Gleaners Sunday School Class, Noon Exchange Club for 50+ years, Community Chest Committee of 21, Friends of the Library, Team physician at Northside High School for 19 seasons. He and other fathers built Skokos and Higgins Fields to begin the Church League Complex. R.C. provided support in many ways to many organizations that are too many to name. R.C. was a kind and gentle man who always put others before himself. He adamantly taught his boys the "Golden Rule". He was the epitome of what a Father and man should be.
He is survived by his loving wife of 71 years, Dorothy; four sons, R. Cole Jr. and wife Staci, of Fort Smith, Joe and wife Leeann of Corinth, Miss., Charlie and wife Cassie of Russellville, and Robin and wife Mona of Russellville; fourth son, Wyndal passed away in December 2003; also surviving are 12 grandchildren; and 22 great-grandchildren. He is also survived by one sister, Anna Mae Buster of Ogden, Ark; two nephews; and three great-nieces.
His cremains are to be interred in the Columbarium of First United Methodist Church in a private family ceremony. Memorial service will be Tuesday, May 20, 2014 at 11 a.m. in the Sanctuary of First United Methodist Church under the direction of Edwards Funeral Home.
The body may be viewed from 12-6 p.m., and the family will receive from friends from 4-6 p.m., on Monday, May 19, 2014 at Edwards Funeral Home.
The family will greet friends following the Memorial service at First United Methodist Church.
In lieu of flowers contributions may be made to the Fort Smith Boys and Girls Club, 4905 North O Street, Fort Smith, Ark. 72904, the Salvation Army, PO Box 292, Fort Smith, Ark. 72901 or the Reynolds Cancer Support House. 3324 South M Street, Fort Smith, Ark. 72903.
To sign an online guestbook visit www.edwardsfuneralhome.com.
Published May 18, 2014
OBITUARY SUBMITTED BY:
Edwards Funeral Home
PO box 3, Fort Smith, AR
E-mail: edwardsfh@yahoo.com
Phone: 479-782-8203