Ronald Glen Caveness Sr.
of Little Rock, AR, 1943 - 2014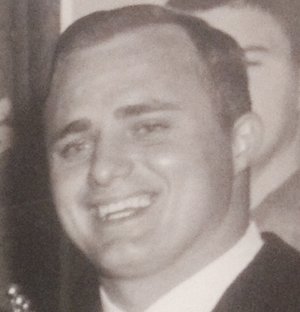 RONALD GLEN CAVENESS SR., 71, went home to be with the Lord on Saturday, May 10, 2014. He was born on March 6, 1943 in Houston, Texas to the late John Weldon and Veda Lusk Caveness.
While attending Smiley High School in Houston, Ronnie was offered scholarships by Arkansas and Alabama to play football. He chose the Arkansas Razorbacks and became the University's first two time All-American (1963 & 1964). Caveness led the Razorbacks to the 1964 National Championship and is a member of the College Football Hall of Fame, Arkansas Hall of Fame, Razorback Hall of Honor, Arkansas All-Century team, and SEC Legends team. In 1965, he was the recipient of the Ernie Davis Award and MVP of the Cotton Bowl. Ronnie Caveness still holds the University of Arkansas' records for the most tackles in a game with 29 tackles against #1 ranked Texas in 1963 and 25 against #1 ranked Texas in 1964.
During college, Ronnie met Tommie Lou Coleman, daughter of the late H.S. "Boots" Coleman, Board Chairman of Coleman Dairy (1938-1971). "Boots," one of the biggest Razorback fans in the state of Arkansas, was in Hog Heaven the day Ronnie and Tommie Lou were married!
Ronnie played in the NFL and was the 16th player selected in the 1965 Draft by the Kansas City Chiefs. He spent one year with the Chiefs, three years with the Houston Oilers and two years with the New England Patriots.
Ronnie's personal relationship with Christ was evident in his daily life. He was a kind-spirited, humble man who never met a stranger. He had a contagious laugh and a unique gift for storytelling. His personality was larger than life, and the love for his family and friends was unconditional.
He is survived by his two children, daughter, Sheri Caveness and her son, Cole Caveness of Little Rock; son, Ronnie Caveness Jr. (Leigh Ann), their four daughters, Lyn and Claire Caveness, Emma and Lyndsey Mylius, all of Fayetteville. He is also survived by his second wife, Teresa Elkins Caveness of Little Rock; his three siblings, John Caveness (Connie), Gay Zinn and Gary Caveness of Houston. He was preceded in death by his brother, Jerry Caveness.
A celebration of Ronnie's life will be held at Fellowship Bible Church in Little Rock on Thursday, June 5, 2014 at 2 p.m. Coaches and players from the 1964 Arkansas Razorback National Championship team will be recognized and are asked to sit with the family.
In lieu of flowers, the family requests that donations be made in memory of Ronnie Caveness Sr. to Boston University – Center for the Study of Traumatic Encephalopathy, 72 E. Concord Street, B-7380, Boston, Mass., 02118.
Arrangements made by Roller-Chenal Funeral Home, 13801 Chenal Parkway, Little Rock, Ark., (501) 224-8300.
Online guestbook: www.rollerfuneralhomes.com/chenal.
Published May 18, 2014
OBITUARY SUBMITTED BY:
Roller-Chenal Funeral Home
13801 Chenal Parkway, Little Rock, AR
Phone: 501-224-8300
http://www.rollerfuneralhomes.com/chenal