Brooks B. Chambers
of Little Rock, AR, 1920 - 2014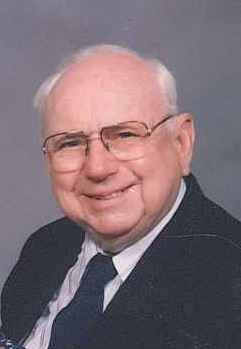 Brooks "BB" Burdette Chambers, age 93, of Little Rock, Arkansas, passed away May 18, 2014 at the VA Hospital of Little Rock .BB was a graduate of Little Rock Central High School. He joined the Navy in January 1941 and served 6 years in WWII and 1 ½ years in the Korean War as a Machinist Mate 1st Class. He saw many campaigns on different ships and was serving on the USS Vincennes August 9, 1942 when the Vincennes and 4 other ships were sunk at Guadalcanal.
He was born on October 8, 1920 in Little Rock and is survived by his wife of 66 years, Mary Long Chambers. He is also survived by their three children, Bonnie (Doug) Owens, Mandeville, La., Rosemary (Tom) Hemphill, Little Rock, Robert (LuAnn) Chambers, Buford, Ga., six grandchildren, seven great-grandchildren and a sister, Betty Connelley, Little Rock. He was preceded in death by one grandchild and his brothers, Bill and Bobby Chambers.
BB was a member of Holy Souls Catholic Church for over 60 years and a Charter Member of the Arkansas Antique Car Club. He attended Petit Jean car swap meet for over 50 years enjoying the camaraderie of the people as much as selling license plates and car parts. His 1926 Model T Ford was National Winner at the Petit Jean Annual Meet. He enjoyed dancing which he missed being able to do in his later years. BB was an amazing gardener, being called a "master" by friends. He loved his family and friends and will be deeply missed by all who knew him. Mass of Christian Burial will be at 10 a.m. Thursday at Our Lady of the Holy Souls Church, Tyler and I Street, Little Rock with Fr. Erik Pohlmeier, Celebrant. Interment will follow at Pinecrest Memorial Park. Visitation will be from 6 p.m. until 8 p.m. this evening (Wednesday) at Griffin Leggett Healey & Roth, 5800 W. 12th St., Little Rock (501) 661-9111. To sign the online guestbook, go to www.griffinleggetthealeyroth.com.
Below is a letter from BB's son sent to him for Father's Day a few years ago…
"You made a Difference "
As Father's Day approaches, I just wanted to say a few words and let you know the difference you made for me in my life. I know that what you did for me is part of you and something all the people you know experience in some way. There are so many "little things" you have shared with me that provided guidance and shaped me into the person I have become. John Wooden, one of the most successful college basketball coaches said, "It is the little details that are vital, little things make big things happen". Sometimes we don't realize the little things we encounter in life, have influence as we grow older. As I told my Mother, in your heart and soul, you should know the importance of your life and how you influenced me and people whose lives you have touched.
Before I was even born, you were protecting me and ensuring my future. When you went to war, I can't imagine what you felt when you were on the ship and went into battle long ago. I don't know if you felt the need to protect your home and secure the lives of those you knew in our country. I do know if you had not made that commitment, we would live in a very different world today. Thank you for being the person you are and having the strength of character to fight for our country and your family.
The lessons I learned from you are many and this is too small a space to capture all the times spent together. Growing up, I learned from you the teaching of ethics by your example. I know that you always treated people fairly whenever you sold them "parts" for cars or you were always willing to help with your knowledge. The moral message was how you should interact with individuals you encounter. This is an important lesson for anyone to learn, especially your children and it helps you in all walks of life.
You showed me some practical ways when you did simple tasks of "organizing" working on cars. Simple lessons can be learned about tools, preparing for a task, and then methodically executing to accomplish whatever you set out to do, such as changing a transmission. I know you don't give a lot of thought as to the impact of these "projects", but they had far reaching benefits. What I practiced in my youth helped me understand and develop organizations skills and leadership. Keeping tools organized, such as on the board in our basement and the mantra, "Boy, if you borrow those tools, be sure to put them back", stick with you as an adult. You learned how to take care of other people's property and be sure to return anything you borrow. So many things learned in the day to day life growing up that make big differences when you are an adult.
Having someone like you in our lives to show us the way and provide guidance is an experience we can draw on as we move through life. It is a combination of all these "inspirations" that forms our personalities and shapes the lives we lead and shows the positive influence you provided.… you made a difference to so many people in this world and we are fortunate to have someone like you to learn from and motivate us to be the right kind of person. Both you and Mom are such special people, I just wanted to share a few of my thoughts with you…Happy Father's Day!
Published May 21, 2014
OBITUARY SUBMITTED BY:
Griffin Leggett Healey & Roth
5800 West 12th Street, Little Rock, AR
Phone: 501-661-9111