Marvin R. Zipfel
Cabot, AR, 1930 - 2014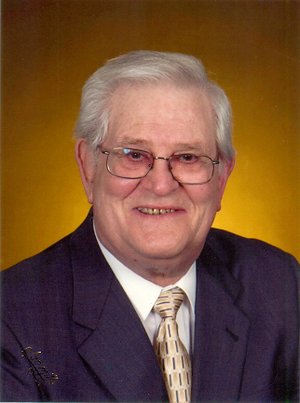 Marvin R. Zipfel, 84, of Cabot died Saturday, Oct. 25, 2014. He was born March 30, 1930 in Belleville, Ill. to the late Agnellus Zipfel and Toleitha Honer Zipfel. In addition to his parents, he was preceded in death by his wife, Marie G. Zipfel; daughter, Lisa M. Zipfel and brother; Melvin Zipfel. Throughout his life, Marvin was always interested in sports and coached a championship baseball team, the R.C. Colas in the Lions League. He was a barber in his father's barber shop until he joined the U.S. Air Force during the Korean War and became a radio operator. After his return home, he met his future wife on a blind date and they remained married for over 50 years until she passed. He went to Southern Illinois University in Carbondale on the GI Bill, where he earned a bachelor's degree in business.
His position as a sales representative for Western Auto brought him to Searcy, Ark. in 1960, where he and Marie had two daughters. He was a founding member of the Elks Lodge in Searcy and was president of the Men's Club at St. James Catholic Church. He and his family moved to Cabot in 1972 after the purchase of a Western Auto Store. Marvin and Marie worked side-by-side in the business for over 33 years and were respected and loved by their customers. The family survived the total destruction of the business in the 1976 Cabot tornado and rebuilt on Main Street, later changing the name to ServiStar. Known as "Zip" to his friends and customers, he enjoyed people and working in the business.
Zip had a great sense of humor and always had a good story or joke to tell. He had a close relationship with his wife and daughters and also has maintained many friendships throughout his life. After retirement, he kept a great interest in politics, current events, reading and sports. Marvin was a member of St. Jude's Catholic Church since 1972.
He is survived by brothers, Agnellus E. Zipfel, Marion Zipfel; sister, Marilyn Zipfel Boehne; daughter, Karen K. Zipfel.
Funeral services will be 10 a.m. Tuesday, Nov. 4, 2014 at St. Jude the Apostle Catholic Church in Jacksonville. Visitation will be from 6 to 8 p.m. Monday, Nov. 3, 2014, with a rosary at 7:30 at the funeral home. Burial to follow at Rest Hill Memorial Park under the direction of Moore's Cabot Funeral Home (501)843-5816. Please sign the online guestbook at www.moorescabotfuneralhome.com.
Published November 2, 2014
OBITUARY SUBMITTED BY:
Cabot Funeral Home
700 North Second, Cabot, AR
Phone: 501-843-5816