Norma Jeannine Hale Phillips Newman
Fayetteville, AR, 1929 - 2014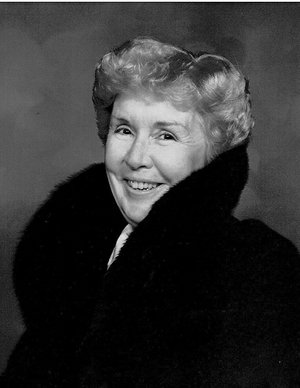 Norma Jeannine Hale Phillips Newman, age 84, passed away in Fayetteville, Ark. on Oct. 30, 2014. She was born in Neosho, Mo. on Nov. 2, 1929 to Elva Chandler and Lura Ellen (Bell) Hale.
Jeannine and her parents moved to Berryville, Ark. in 1934, where her father established a produce, dry goods and leather goods business. She graduated from Berryville High School, where she fondly remembered being a majorette and working in the local drug store, Berryville Drug. Jeannine worked in different professions throughout her life, but she spoke with most pride in owning and operating one of the first private employment agencies (Northwest Arkansas Employment Agency) in Fayetteville, Ark. and for serving as the "first lady" of the Arkansas National Guard when her husband, Maj. General Thomas Martin Phillips, served as the state's Adjutant General.
Jeannine was an active member of the First Christian Church in both Fayetteville and Berryville. She was always very involved in her children's schools, serving as homeroom mother almost every year, as an officer in their PTA's, as a dedicated Brownie and Girl Scout leader, as well as a Den Mother for her son's Boy Scout troop. She even called upon her past majorette experience, sewing many of her daughter's elaborate majorette costumes. In the remaining free time she had, she stayed busy in various volunteer activities, including the Democratic Party of Washington and Carroll counties, Washington General Hospital (now WRMC in Fayetteville), the Women's Club of the Fayetteville Country Club and the Berryville Chamber of Commerce.
Jeannine lived in several places during her lifetime, starting with her birth in Neosho, then the move to Berryville. Eventually, she married Tommy Phillips on March 4, 1953 and following the birth of their daughter in 1954, they moved to Fort Sill, Okla. After a little over a year in Fort Sill, the family moved to Fayetteville, with some years split with living at Camp Robinson in North Little Rock for General Phillips' position. Following the death of her husband in 1973, she remained in Fayetteville, working at McIlroy Bank until she married on May 4, 1985 a former high school beau, Col. (Ret.) Larry Kent Newman and they moved back to Berryville, where Larry was residing. They lived in Berryville until Larry's death in January 2014, whereupon she returned to Fayetteville to be near her daughter and her family.
She was predeceased by husbands Maj. General Thomas Martin Phillips and Col. (Ret.) Larry Kent Newman, her parents and her son, Mark Hale Phillips.
She is survived by her daughter, Jaquita Phillips Ball and husband, Ramsay, of Fayetteville; grandchildren, Sarah Jane Ball of Bentonville, Ark., Jennifer Annette (Phillips) Parker and husband, Yancy, of Elkins, Ark. and Jonathan Martin Phillips and wife, Carleigh, of Fayetteville; great-grandchildren, Grady and Maci Parker of Elkins; sister, Kylene Hale Hayes of Benbrook, Texas; niece and nephew Donna Hayes and Scott Hayes and their families in Texas; sister-in-law, Shirley Porter and her husband, Gene (Berryville) and stepsons, Jim Phillips (Stover, Mo.), Tommy Phillips Jr. (Green Forest, Ark.), General Larry Clay Newman and Col. (Ret.) Clyde "Brud" Newman, both of Mo. and their families.
In lieu of flowers, please send memorials to Good Shepherd Humane Society (Eureka Springs, AR), Turpentine Creek Animal Refuge (Eureka Springs, AR) or the First Christian Churches of Berryville and Fayetteville.
Graveside services will be held 1 p.m. Monday, Nov. 3 at Fairview Memorial Gardens in Fayetteville.
To sign the online guestbook, visit www.nelsonberna.com. Arrangements are under the direction of Nelson-Berna Funeral Home of Fayetteville.
Published November 2, 2014
OBITUARY SUBMITTED BY:
Nelson-Berna Funeral Home and Crematory
4520 North Crossover Road, P.O. Box 8982, Fayetteville, AR
Phone: 479-521-5000
http://www.nelsonberna.com