Eliza Mae Dempsey
of Little Rock, AR, 1925 - 2014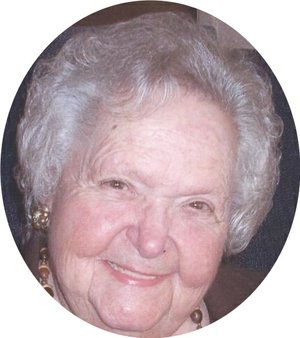 ELIZA MAE DEMPSEY, of Little Rock went to be with her Heavenly Father on Oct. 31, 2014 at the age of 89. Mom was not born deaf, losing her hearing about three years of age. Her family and siblings, most all deaf, and a history of 72 deaf in our family to present day.
She is preceded in death by her parents, Austin and Pearl Williams; her husband, Edward Dempsey; her daughter, Judy James; her sister, Betty Brannan; her son-in-law, Louis Lipke and her grandson, Andrew (Scotty) Pratt.
She is survived by her brother, Richard Williams (Inez); son, Paul Fimpel Sr.; daughters, Penny Lipke and Kay Case (Frankie); friend for life, Millie Johnston; brothers-in-law, Bryant Allen (Ruby), Jimmy Dempsey (Gloria), and Donald Brannan; five grandchildren; seven great-grandchildren; two great-great-grandchildren; Noah Weaver, our latest member of the family, being our 5th generation baby.
Eliza attended the Arkansas School for the Deaf. She was an active member of the Arkansas School Association for the Deaf and Deaf Senior Citizens, a member of Antioch Missionary Baptist Church of more than 50 years and a volunteer of the Arkansas School for the Deaf Historical Museum.
Her working career included Colonial Bakery for three years, Tuf-Nut Garment Company for 20 years and Modern Furniture Company for two years.
She leaves a legacy of three families, her personal family, her deaf community and her church family.
Mother was one of the kindest and dearest persons you could ever want to meet, never met a stranger, loving and caring for others, always. She was like a magnet, drawing friends and family to herself. Better known as "Mother Dearest" to us, her children, and "Mom" or "Mother" to her church family and other friends. We were truly blessed to have our mother, our dearest and best friend, to raise us and teach us about the Lord.
The family will welcome friends from 10-11 a.m. Monday, Nov. 3, 2014 at Roller-Owens Funeral Home (501-791-7400) 5509 John F. Kennedy Blvd., North Little Rock, AR 72116. Funeral service will be 11 a.m. Monday, Nov. 3, 2014 at the funeral home, with Bro. Bob Slagley officiating. Interment will follow at Mount Springs Cemetery, Cabot, Ark. Memorials can be made to Arkansas School for the Deaf Historical Museum, 2400 West Markham Street, Little Rock, AR 72202.
Online guestbook: www.rollerfuneralhomes.com/owens.
Published November 3, 2014
OBITUARY SUBMITTED BY:
Roller-Owens Funeral Home
5509 John F. Kennedy Blvd., North Little Rock, AR
Phone: 501-791-7400