Jerry Wayne Kinsey
Hot Springs, AR, 1943 - 2014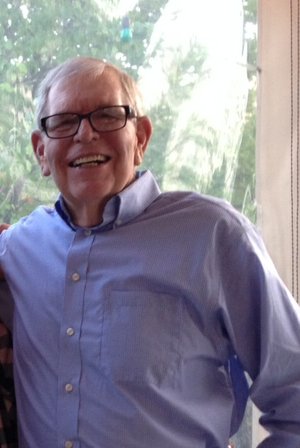 Jerry Wayne Kinsey of Hot Springs, passed away November 1, 2014 in Hershey, Pa. He was born July 17, 1943 in Hot Springs, Arkansas to Norban Sydney Kinsey and Le Vellon Syble Hamilton Kinsey, both now deceased.
He leaves behind his loving wife and friend of 44 years, Marta, and a son, Scott, of whom he was very proud. He is also survived by one brother, James Ray Kinsey and his wife Kathy, two nephews and four nieces, and several friends' children that he and Marta thought of as their own. Jerry is survived by his beloved pet, Milli.
Jerry graduated from Hot Springs High School in 1962 where he was a member of the Trojan Football Team. He then attended Henderson State University. After serving in Vietnam, he received his Bachelor's and Master's Degree from Ouachita Baptist University where he was on the Dean's List.
He entered the United States Marine Corp in 1968 and served in Vietnam as a Squad Leader. After graduation from Ouachita Baptist University he was employed by the Arkansas Department of Correction as a State Parole Officer. He was assigned to Garland County as a Parole Officer for 14 years, where he met and became friends with many local law enforcement officers, and Officers of the Court that remained lifelong friends. His career in Law Enforcement was followed by 19 years as a Rehabilitation Counselor at the Hot Springs Rehabilitation Center. Jerry received the honor of Employee of the Month twice, and Employee of the Year. He was the Counselor/Coordinator for the Rehabilitation Center and National Park Community College. Jerry's adult years were committed to the service of others.
Besides coordinating disabled students programs at the College, he also was the Administrator for the Phil Jamison Trust Fund that enabled disabled students from Arkansas to attend the college of their choice in the State of Arkansas. He continued to coordinate this Trust after his retirement from HSRC. One of Jerry's greatest joys was seeing these students graduate from college and go on to have a successful life. To the day he died, he received calls and letters of gratitude from students thanking him for the difference he made in their lives.
Throughout the years Jerry was involved in Veteran Affairs, he was active in the Elks 380, serving as Exalted Ruler from 1982-83. Jerry loved cooking, books, cruising Lake Hamilton on his party barge, and camping on Lake Ouachita. He enjoyed the friendships he made at Duck Club and Deer Camp. He and Marta toured and visited every state in their motor home "Phaeton Place". They were members of the Tiffin/Allegro RV Club., Family Motor Club Association, and Good Sam RV Club.
Jerry was never too busy to help anyone in need. You could count on him to be good to his word, would stand his ground, and stand up for you. Jerry did GREAT impersonations and could make everybody laugh. He loved pulling practical jokes, and gave all of his friends a nickname. Close friends commented that "Jerry was one of a kind", and the world was a better place because of him. Semper Fi Jerry.
Often he would say; "When God comes to get me, I hope He catches me on the run." and He did.
A special thank you to our former doctor and beloved friends, Dr. Martin Koehn and Molly Harvey, who were with us to the very end.
Graveside service with full military honors will be 1 p.m. Thursday November 6, 2014 at Memorial Gardens Cemetery on 70 West. Visitation will be 12 to 1 p.m. at the cemetery. In Lieu of flowers memorials may be made to the https://supportwoundedwarriorproject. Guest register at www.grossfuneralhome.com.
Published November 5, 2014
OBITUARY SUBMITTED BY:
Gross Funeral Home
120 Wrights St, Hot Springs, AR
Phone: 501-624-1244