Mattie Lee Audas
Tyler, TX, 1922 - 2014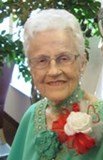 Mattie Lee Audas lived, loved and served for the day she would see her Lord and Savior Jesus Christ. That day was November 4, 2014. She was a woman devoted to others -- family, friends, and those in need -- until her final days. Married 65 years to her late husband Hugh Audas, Mattie, like Hugh, went to glory after 91 years. Attending to Mattie of Tyler, Texas, were her daughter, Pauletta Bonner; son, Larry Audas; and daughter-in-law, Joanne.
Mattie Evans was born December 1, 1922, and raised in Honaker, Virginia, along with ten brothers and sisters. Her father was a Primitive Baptist minister, but her mother's dedication most shaped Mattie's early life and belief that others came first. Mattie did, though, enjoy reminding her basketball-happy family that she "was All County" at Honaker High. And indeed she was. After high school, Mattie's focus on service took her to Cincinnati, where she made airplane coils for the war effort. She wrote letters to service members overseas and clipped articles about their efforts and sacrifice -- all of which remain today in a World War II scrapbook Mattie took pride in giving to her family years later. One of the service members from her church was U.S. Marine Hugh Audas.
After the war, Mattie and Hugh Audas married, started their family in Dayton, Ohio, and later moved to the Chicago area. Her life's vocation was family -- Hugh, Pauletta, Larry. For years, Mattie taught Sunday School and continuously served at Oak Forest Baptist Temple. From children to seniors, Mattie took great pleasure in recent years encouraging her many friends in the Green Acres Baptist Church Friendship Class. At Rosewood Estates, she befriended so many, Mattie became an official Ambassador. In her final week, she told them about a special, and ultimately, final trip back to Honaker. She visited her old high school, home place and father's white frame church. Mattie was almost in heaven. Now...she really is.
Also surviving Mattie Audas are her grandchildren: Aaron Bonner and wife, Kari; Daniel Bonner and wife, Brandy; Dr. Kara Gallagher and husband, Tim; Maria Chen and husband, Stephen; and Kristin Bonner. Surviving great-grandchildren are Caleb, Matthew, Emmalyn, Samuel, and Daniel Blake. Mattie was preceded in death by her parents, Rev. Elexious and Sarah Elizabeth Evans; brothers, Tyce, McKinley, Alex, Elexious Jr., Hassel, and Lodge; and sisters, Louise, Nan, Eunice, and Ethel.
A funeral service will be held at 3 p.m. on November 8, 2014, at Tyler Memorial Funeral Home with visitation earlier that day at 2 p.m. Family interment will follow in the military section beside Hugh's resting place. Fittingly, Hugh previously prepared a marker inscription already in place for Mattie Lee Audas that reads "Her joy of serving others." Memorial contributions may be directed to Hospice of East Texas Homeplace.
Published November 7, 2014