Crawford A. "Joe" Wyatt
Mountain View, AR, 1924 - 2014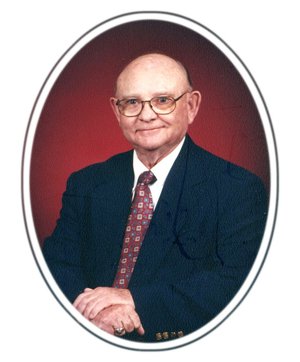 Crawford A. "Joe" Wyatt died Nov. 7, 2014, at the age of 90. He was born Oct. 16, 1924 in Rosie, Arkansas to Fred and Ethel Wyatt. Joe grew up on a farm with his three brothers and two sisters. After graduating from Oil Trough High School, Joe served two years in the Army in the Pacific Theater, where he was a member of the 33 Infantry Division during World War II. After serving in Japan, he returned to Arkansas where he married Maxine Tate on Jan. 17, 1947. After marriage he attended Arkansas College for two years and transferred to the College of the Ozarks in Clarksville where he completed his degree in pharmacy. During this time, their son, Kenny J. Wyatt, was born.
After moving to Mountain View, Joe opened and operated Wyatt Drug Store for 30 years. He retired from the pharmacy in 1986. He later was elected Mayor of Mountain View where he served for three terms. During his many years in the community, Joe served on the Mountain View School Board, The Ozark Folk Center Commission, 45 years, the Stone County Ambulance Board, Mountain View Chamber of Commerce, and the Stone County Industrial Committee. He was a member of the Lions Club, Veterans of Foreign Wars, and a 32 degree Mason. He was a member and deacon at Foothills Baptist Church. In 1987, Joe was presented the Chamber of Commerce Distinguished Citizen Award and in 2008 a scholarship was created by the Ozarka College Foundation in honor of Joe and Maxine Wyatt. Joe was passionate about education opening doors to the future.
Joe is survived by his wife, Maxine Tate Wyatt; son, Kenny J. Wyatt, O.D. and wife, Lynne Wyatt; one brother, Gerald Wyatt of Rosie; two sisters, Billie Miller and husband, Stanley and Mary Baxter and husband, Shelby; sisters-in-law, Ona Wyatt and Wanda Wyatt, as well as a host of nephews, nieces, loving family members and friends. He was preceded in death by his parents, Fred and Ethel Wyatt, and two brothers, Duane Wyatt and Max Wyatt.
A visitation will take place on Monday, Nov. 10, 2014 from 12-1:30 p.m. at Foothills Baptist Church in Mountain View, Ark. Funeral services will follow the visitation beginning at 1:30 p.m. with Brother Don Strait and Brother Farrell Miller officiating.
Pallbearers are Sen.David Wyatt, John Wyatt, Steve Wyatt, Lance Wyatt, Hal Wyatt, Robert Griffin, Rodney Luther, and Kenny Kinnear. Honorary pallbearers are Mountain View Lions Club and Foothill Baptist Church Adult Sunday School Class.
The family suggest lasting memorials be made to Foothills Baptist Church, 19935 Highway 5, Mountain View, Ark.; Stone County Humane Society, PO Box 485, Mountain View, Ark. 72560; Ozarka College c/o Mountain View Branch, PO Box 10, Melbourne, Ark. 72556; Kyler Cemetery c/o Laura Guth, 4010 Batesville Blvd. Batesville, Ark. 72501. Online guestbook www.rollerfuneralhomes.com.
Published November 9, 2014
OBITUARY SUBMITTED BY:
Roller-Coffman Funeral Home
405 Peabody, P.O. Box 1039, Mountain View, AR
Phone: 870-269-3462