Don J Helms
Russellville, AR, 1938 - 2014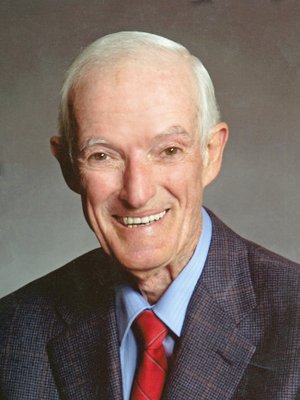 Don J. Helms, 76, of Russellville, died on Thursday, Nov. 6, 2014 at St. Vincent Infirmary in Little Rock. The son of Leonard and Mirl Neeley Helms, he was born Oct. 9, 1938 in Jackson County at Tuckerman.
Don believed that education held the keys to a successful life and career and following his graduation from Tuckerman High School in 1955, he enrolled at Harding College in Searcy at the age of 16, thereby beginning a love for Christian education which continued throughout his life. In order to pay for his college tuition, he and his brother, Doyle Helms, worked summers in DeKalb, Ill. in the Del Monte Company canneries.
Don's days at Harding set in place a pattern which he maintained throughout his professional and personal life, and which is best summarized by his quip, "Work 20 hours every day, and the other 4 will take care of itself."
Don worked 4 years on the campus newspaper, the Harding Bison, serving as the Business Manager and later the Circulation Manager. He was President of Tri Sigma Delta social club, a member of Pi Gamma Psi and was active in the American Studies Program, which allowed students to see firsthand, our nation's free enterprise system at work. While a full time student, he also worked at and later managed Cothern's Men's Store in Searcy.
He received his Bachelor's degree from Harding College in 1959 and earned his Master's in Business Administration from the University of Arkansas. In 1961, Don completed basic training at Fort Leonard Wood, Mo., and then continued his service in the U.S. Army Reserves. He and Margaret Hicks were married on Dec. 16, 1962 at the Tuckerman Church of Christ. In 1961, Don accepted a teaching position at Arkansas Tech at the age of 22, making him the youngest full time instructor on the Arkansas Tech staff. While teaching accounting and management at Tech, he earned his PhD from the University of Arkansas in 1978 and retired in 1991 after 30 years of teaching.
He was a well known CPA in Russellville for over 40 years and a member of the Arkansas Certified Society of Public Accountants. Additionally, Don was a member of the Arkansas Tech University Council of Professionals, Camp Caudle Board, Harding University Presidents Development Council and the Harding University Builders Circle. In 1989, he was also recognized as an Outstanding Alumnus by Harding University's School of Business.
A member of the West Side Church of Christ, Don had served as a Deacon, Treasurer, and as an Elder for the past 36 years. He was well known and loved for his Bible classes and for his "I have a dream" [for this church] speeches.
He was a leader in the establishment of the Church of Christ Student Center on the Arkansas Tech University Campus. Don truly believed that every possession of his belonged to the Lord of Heaven and he taught this simple investment strategy to all would listen, "use what the Lord has put in your hands. If you plant the seed, God will certainly give the increase".
He was preceded in death by his father, Leonard Helms; brother, Dwight Dwayne Helms; and daughter, Cheryl Leigh Helms.
He is survived by his wife, Margaret Helms, Russellville; daughter, Donna Helms, Little Rock; son, Dr. Bill (Kelli) Helms, Conway and their children, Lindsey, Brandon and Katelyn Helms, all of Conway; his mother, Mirl Neeley Helms, Russellville; brother, Doyle (Mary) Helms, Waco, Texas; niece, Megan (Helms) Miller, Texas; 4 nephews, Mike Helms, Texas, Brian and Barry Birmingham, Texas and Dr. Mark Helms, Russellville.
Funeral Service will be held at 10 a.m., Monday, Nov. 10, 2014 at West Side
Church of Christ. Nick Hamilton, Dr. Cliff Ganus, and Dr. Mike Cooper officiate. Active pallbearers will be Bill Grant, Shannon Walters, Herb Taylor, Alan Todd, Darol Harrison, and Bob Smart. Honorary pallbearers are former elders of the West Side Church of Christ. Burial will be at Oakland Cemetery in Russellville by Humphrey Funeral Service. Visitation will be from 5 to 7 p.m. Sunday, at the funeral home. Memorials may be made Camp Caudle, 857 SR 164 North, Hector, Ark. 72843 (www.campcaudle.org.) or to the Cheryl Helms Memorial Scholarship Fund, 2300 West C Street, Russellville, Ark. 72801. Internet obituary and online guest book are available at www.humphreyfuneral.
Published November 9, 2014
OBITUARY SUBMITTED BY:
Humphrey Funeral Service Inc.
2801 W. Main St., Russellville, AR
Phone: 479-968-4411