Tracie F. Turley
of Little Rock, AR, 1966 - 2014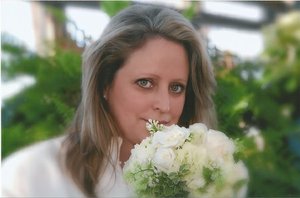 On November 11, 2014, Tracie Finette Turley, 48, was called to heaven from the arms of her husband, Paul Turley ll. She was born on July 5, 1966 to Monte and Loren D. Foos in Wichita, Kansas.
Once reconnected after an absence of 26 years, Tracie and Paul were married at Thorncrown Chapel in Eureka Springs, Arkansas on February 13th, 2011. This soon became her favorite spot.
She is survived by her husband, Paul; parents, Monte and Loren D. Foos of Allen, Texas; father and mother- in-law, Paul Turley and Sharon Turley of Muskogee, Oklahoma; brother, Chris Foos and sister-in- law, Cindy of Allen, Texas; nephew, Austin Foos of Plano, Texas; brother-in-law, Stephen Turley and sister-in-law, Nicole Turley of Muskogee Oklahoma; and nephew, Benjamin Turley of Muskogee, Oklahoma and her loved cats, Nylo, Newman and Sophie Bella. Surviving grandparents include Finette Russell and Edna McGee, both of Allen, Texas.
Graduating from Putnam City North High School in Oklahoma City in 1984, she attended North Texas University in Denton, Texas, and graduated from New Mexico State in Las Cruces with a Finance degree in 1991. Her prior residences were Kilgore, Texas, Las Cruces, New Mexico and Dallas, Texas.
Tracie loved decorating, crafting and making a picture perfect and comfortable home, especially on the holidays. She had the ability to see something and create something special. Tracie loved spending time with her mother Monte. It never mattered what they did as they were best friends.
Tracie started work in retail and soon found her fondness for the title industry. She worked at Stewart Title in the Dallas area and continued that career in Little Rock at Proland Title. She has many great friends from her employment.
All that crossed paths with Tracie were blessed with her compassion, sense of humor and her unselfishness ways of giving. Tracie's beautiful eyes truly were a window to her soul. She told her husband long ago, "Look into my eyes and hear what I'm not saying, for my eyes speak louder than my voice ever will".
Services will be held on Saturday, February 15 at 2 p.m. at Little Rock Funeral Home, 8801 Knoedl Ct. (NW corner I-630 and Barrow Rd.), officiated by Dr. Bob Dunaway. In lieu of flowers memorials may be made to Colon Cancer Coalition, http://www.coloncancercoalition.org/give/. Arrangements by Little Rock Funeral Home, (501)224-2200. Tracie's online guestbook may be signed at www.littlerockfuneralhome.com.
Published November 14, 2014
OBITUARY SUBMITTED BY:
Little Rock Funeral Home
8801 Knoedl Ct., Little Rock, AR
Phone: 501-224-2200