William H. Bowen
of Little Rock, AR, 1923 - 2014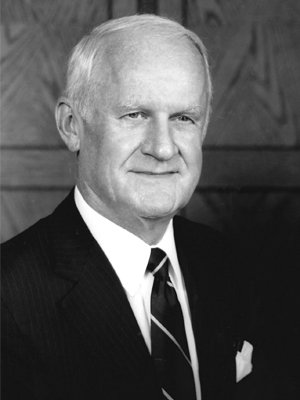 William H. Bowen, a farm boy from Altheimer who built far-reaching careers in law, banking, government, business and education, died Wednesday, November 12, 2014. He was 91.
Bowen was a senior partner in Arkansas's largest law firm, president of the state's largest bank, chief executive officer of a health insurance company and dean of the state's largest law school, which was later named the William H. Bowen School of Law. He was a friend and adviser to Bill Clinton and managed the governor's office for a year while Clinton was away running for president and also a friend and adviser to Dale Bumpers and David Pryor when they were governors and United States senators.
He occasionally mused about a political career, backing away in the most serious contemplation in 1964, after a front-page article in the Arkansas Gazette listed him as the leading prospect to succeed Gov. Orval E. Faubus, who for a while was not expected to run again.
Bowen served on countless business, professional and civic boards and state and national governmental advisory boards. He was a Navy pilot in World War II, survived a series of training crashes, and he had an extended career in the Naval Reserve. President Clinton appointed him to the Employers Support Committee for Guard and Reserve visiting Bosnia and Germany while chairman of the committee. Also, he was awarded the Secretary of Defense Outstanding Service Medal.
In a 2006 memoir that recounted the grueling hardship of life in the Mississippi Delta, for families like his own but more so for blacks who were banished to the dark recesses of the social and economic order, Bowen counted himself a lucky man.
"I have lived during a remarkable period in our nation's history as the agricultural-driven society of my childhood gave way to the turmoil of the Depression and World War II, and the social upheaval of the aftermath," Bowen wrote in The Boy from Altheimer. "Although I grew up in a section of the country that was among the poorest in the nation, I nevertheless benefited from the stability of my family and community life. Growing up in a time and place where individuals had little control over the capriciousness of nature and the land, I was lucky to guide my own destiny."
William Harvey Bowen was born May 6, 1923, in Altheimer, a farm town of 450 in the often flooded lowlands east the Arkansas River and Plum Bayou in Jefferson County. His father, Robert J. "Bob" Bowen farmed, managed a cotton gin and ran a general store, among other occupations, and his mother, Ruth Falls Bowen, was a schoolteacher. He was one of six children. His sister, Lois Rhene, died of flu at the age of three during the raging pandemic at the end of World War I. Brother John, a National Guard artilleryman, drowned at sea in the battle for the Aleutian Islands in World War II. Two months later, another brother, Pat, died of a ruptured appendix. Bill's oldest brother, Bob, also a WWII veteran, settled in Altheimer as a cotton gin manager and mayor for over 20 years. His younger brother, Jim, enlisted in the Navy at 16 and served on a destroyer in the China Sea, and was a long-time SW Bell executive.
The memoir described the serial ordeals of the community and his family in the 1920s and 1930s, of living for weeks on the second floor of the local school during the great flood of 1927, when he was four; of the succeeding droughts that ruined farmers and drove them from the land and President Herbert Hoover's declaration that it was not the government's function to help them; and of the Great Depression that left neighboring tenant farmers, black and white, penniless and starving until the government finally delivered relief.
Bowen graduated from high school in 1941 and hitchhiked to Henderson State Teachers College at Arkadelphia for a year until the Japanese bombed Pearl Harbor. Bowen joined the Navy in December 1942 and trained to fly from carriers in the Pacific, but the war ended before he could put his training to use.
He left the Navy and enrolled at the University of Arkansas in 1946 and then in its law school. He married Connie Wanasek, a student and an employee of the registrar's office. He graduated from law school in 1949, worked briefly for a Pine Bluff law firm, and then did graduate study in tax law at New York University.
In 1950, he became law clerk to Judge Bolon B. Turner of the U.S. Tax Court in Washington, D.C. and two years later joined the Trial Section of the U. S. Justice Department's Tax Division as special assistant to the attorney general. He tried tax cases in federal district and appeals courts across the South, including Arkansas.
In 1954, he joined the Little Rock law firm of Mehaffy, Smith and Williams as a trial tax specialist, switching from defending the government to defending taxpayers. The firm had seven lawyers. It would soon become Mehaffy, Smith, Williams, Friday and Bowen. It is now Friday, Eldredge and Clark and has 85 lawyers.
Bowen became general counsel for the Arkansas Bankers Association and in 1970 Richard C. Butler approached Bowen about succeeding him as president of Commercial National Bank, then the fourth largest bank in Little Rock. He became president in May 1971 and began an aggressive campaign to build the bank. He borrowed a casket from Griffin Leggett Funeral Home and put it on the table in the bank's boardroom. He asked all the bank's principal officers and board members to bury their attitudes of complacency—just being satisfied with being a friendly neighborhood bank—by dropping an artificial flower in the casket. The bank went after depositors and its assets, net income and shareholder equity leaped.
Bowen appointed a national advisory board to the bank, and each year it published a lengthy analysis of growth issues in the state with recommendations about how the state could move forward.
In 1983, after a protracted fight with competing banks, Commercial and First National Bank merged into the successor First Commercial National Bank, as Arkansas's largest bank and its first multi-bank holding company. Bowen became board chairman and president of both the bank and the holding company. For 22 years, he taught an annual course on ethics in banking at the Stonier Graduate School of Banking at Rutgers University in New Jersey. He retired in 1990.
When Clinton decided in the summer of 1991 to run for president, he asked Bowen to become his chief of staff. The governor would soon be spending nearly all his time out of the state and he wanted a strong hand running affairs for him.
Meantime, in the 1990s, when the competition of hospitals and health maintenance organizations reached a fever pitch, Bowen became president of a new HMO, Healthsource Arkansas, a partnership of Healthsource, Inc., of New Hampshire and the St. Vincent Infirmary medical system.
But, after two years, Bowen returned to the law. Faculty members at the University of Arkansas at Little Rock School of Law urged the chancellor to make Bowen the dean for two years to build the school's development program while it made a national search for a new dean. At the age of 72, Bowen became the dean in July 1995.
After he stepped down, in 1998, Bowen gave the school's largest gift in its history, to establish the Bowen Scholars Program. In 1999, the school's faculty renamed the school the William H. Bowen School of Law.
Early in his legal career, Bowen was president of the Little Rock Chamber of Commerce. He was president of the Pulaski County Bar Association, member of the Arkansas Bar Association and the Arkansas Bankers Association as well as serving as chairman of the board of the Arkansas Arts Center. He was on the Federal Advisory Council to the Federal Reserve and a member of the Arkansas Business Hall of Fame.
A lifetime member of the Methodist Church, his church home for 60 years was the First United Methodist Church of Little Rock where he taught what became the Bowen-Cabe Sunday School Class for over 25 years.
Survivors are his wife, Connie; children, Cynthia Blanchard (Charles) of Russellville, William Scott Bowen and Patty Barker, both of Little Rock; grandchildren, Mary Pat Hardman (John) of Fayetteville, Charles (Chip) Bowen Blanchard (Leslie) of Russellville, Charles Scott Bowen, Lesley Benjamin (Paul) of Austin, Texas, Andrew Bowen, Will Barker (Lauren) of Houston, Texas, Henry Barker, Mary Katherine Barker, and John Barker. Also survived by six great-grandchildren and special friend, DeAngelo Mabry. The family thanks all the wonderful people at Fox Ridge for their care and support over the last three years.
Visitation will be from 4 p.m. until 6 p.m. on Sunday, November 16, 2014 at Ruebel Funeral Home, 6313 W. Markham, Little Rock, Ark. 72205. Funeral services will be at 10 a.m., Monday, November 17, at First United Methodist Church, 723 Center Street, Little Rock, Ark. 72201. In lieu of flowers the family asked that memorials be made to First United Methodist Church of Little Rock, fumclr.org. Arrangements are under the direction of Ruebel Funeral Home, www.ruebelfuneralhome.com.
Published November 14, 2014
OBITUARY SUBMITTED BY:
Ruebel Funeral Home
6313 West Markham Street, Little Rock, AR
Phone: 501-666-0123
http://www.ruebelfuneralhome.com