William F. (Bill) Goodwin
North Little Rock, AR, 1928 - 2014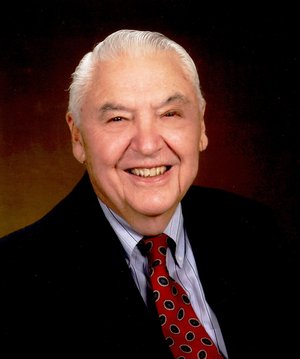 William F. (Bill) Goodwin passed away Thursday, Nov. 13, 2014 in Little Rock. He was born July 25, 1928 in Hattiesburg, Mississippi to the late Bill and Margaret Kessler Goodwin.
He was an avid sportsman his whole life and a proud member of the1946 class of Messick High School in Memphis. Bill was a successful amateur golfer and played semi-professional baseball for the Belleville Stags after college. He worked in the trucking industry from his teen years in Memphis and moved to Little Rock as terminal manager where he retired. Bill was a member of Lakewood United Methodist Church.
He was preceded in death by his wife Margaret Helbig Goodwin, a son Ricky, his parents, and brother George Goodwin. He leaves to cherish his memory his son Bob (Delane) Goodwin, daughter Cindy (Ray) Kordsmeier, grandchildren Will (Kori) Kordsmeier, Sarah (Brooks) Allen, and Teri (Rodney) Howard, and great-grandchildren Jake, Jordan, Cynthia, Sammie, Caden, Amelia, and Abigail, and sister Marty (Gerald) Garrett, and sister-in-law Mary Goodwin, and a host of extended family and friends.
Visitation will be on Saturday, November 15th at 10 a.m. at Rest Hills Funeral Home with the graveside service to follow at Rest Hills Memorial Park at 11 p.m. with Carol Grace officiating.
Please share your memories of Bill at www.griffinleggett.com.
Published November 15, 2014
OBITUARY SUBMITTED BY:
Griffin Leggett — Forest Hills Funeral Home
1200 Highway 5 North, Alexander, AR
Phone: 501-455-1067
http://www.griffinleggettforesthills.com/