Mildred (Mitt) Jolly Chisenhall
of Little Rock, AR, 1919 - 2014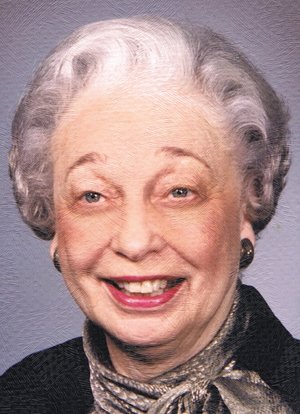 MILDRED (MITT) JOLLY CHISENHALL was born in Colt, Ark. on Jan. 30, 1919. She passed away at Parkway Health Center in Little Rock, Ark., Saturday, Nov. 15, 2014. She was the daughter of the late James Orville and Pearl Jolly. She was preceded in death by her husband, Ed Chisenhall, and her two sisters, Lillian Wilks and Charlene Jones.
She is survived by her son, Larry Chisenhall and his wife, Martha, of Little Rock; three grandchildren, Clay Chisenhall and his wife, Deah, of Little Rock, Mark Chisenhall of Dallas, and Kate Chisenhall, also of Dallas; and two great-grandchildren, Addison and Wyn Chisenhall of Little Rock.
At a young age she moved to Caruthersville, Mo., with her family where she graduated from high school in 1935. In 1937, her family moved to Osceola, Ark. She joined them in Osceola in 1938. She began her career in the business world as a legal secretary. In 1941, she married Ed Chisenhall, an Osceola native, and moved to Birmingham, Ala. During WWII they were stationed in Laredo, Texas, and Walla Walla, Wash. Mildred and Ed returned to Osceola in 1946, and she joined the staff of Florida Real Estate Loan Company. In 1950, she was promoted to vice president of the loan company and several subsidiary corporations. She remained in this position until 1969, when she retired for the first time.
In 1974, the charter of Commonwealth Savings and Loan Association (later SouthBank) was secured, and Mildred was persuaded to come out of retirement to help start the business. She served as vice president from 1974-1983 at which time she was elected president and chief executive officer. In 1982, she was elected to the Board of Directors, being the first woman to hold a directorship on the board of a financial institution in Mississippi County. She retired in 1993, but continued to serve as a board member and consultant for a number of years.
Through the years, Mildred was active in civic, charitable, school, and church activities. She was instrumental in organizing the Junior Progressive Club and the Business and Professional Women's Club in Osceola. She served as a member of the South Mississippi County Chamber of Commerce and a director of the Mississippi County United Way. She also served on the governmental affairs committee of the Arkansas League of Savings Institutions and held memberships in the U. S. League of Savings Institutions, Financial Managers Society, and the Institute of Financial Education. She was a long time member of the First United Methodist Church of Osceola and served as chairman of the Finance Committee for many years.
A private service will be held at Memphis Memorial Park. Memorials may be made to the First United Methodist Church, 303 S. Pecan Street, Osceola, Ark. 72370 or UAMS Winthrop P. Rockefeller Cancer Institute, 4301 W. Markham, Little Rock, Ark. 72205.
Arrangements made by Roller-Chenal Funeral Home, 13801 Chenal Parkway, Little Rock, Ark. 72211, (501) 224-8300.
Online guestbook: www.rollerfuneralhomes.com/chenal.
Published November 16, 2014
OBITUARY SUBMITTED BY:
Roller-Chenal Funeral Home
13801 Chenal Parkway, Little Rock, AR
Phone: 501-224-8300
http://www.rollerfuneralhomes.com/chenal