Lois Ellis Walker
Forrest City, AR, 1909 - 2014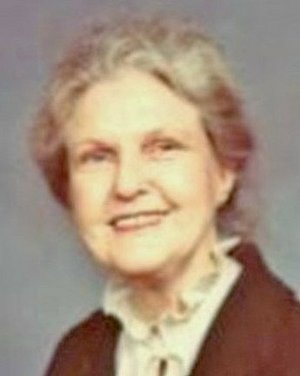 Lois Ellis Walker of Forrest City, Arkansas, whose life spanned a century plus five years, died peacefully on November 16, 2014 under the watchful eye of Thelma Woods her longtime caregiver and family aide.
Born September 20, 1909 in Hamlin, Arkansas, Mrs. Walker was the daughter of Emma Reeves Ellis and Lewin Manghum Ellis of Wynne, Arkansas. One of five children, she was preceded in death by Owen Mangum Ellis of Colt, Arkansas, Rodney 'Jack' Ellis of Houston, Texas; Fay Ellis Orbison and Jewel Ellis Pitts both of Cherry Valley, Arkansas. Mrs. Walker was also preceded in death by her son the late James Henry Kelley, Jr. of Athens, West Virginia. She is survived by three children: William Clement Walker, Jr., and wife JoAnn Shirley Walker of Oxford, Mississippi; Dr. Anne Walker Strand and husband Dr. Allan Strand of Selma, Alabama and Frances Walker McCampbell of Memphis, Tennessee.
Mrs. Walker married William Clement Walker, Sr. in 1937. He preceded her in death in 1951. After Mr. Walker's death, she raised and educated their children, first by becoming a star salesperson for the New York Life Insurance Company and for a number of years a member of their Million Dollar Round Table. Subsequently, she became a trusted real estate broker, founding her own company, Lois Walker Real Estate.
Not only was she a devoted mother and successful business woman, she was a life time learner, an accomplished painter, an enthusiastic bridge player, a schooled ball room dancer, and a world traveler. As a young woman, Mrs. Walker took great interest in sewing and enjoyed creating her own dresses and hats. Also a master knitter and crocheter, she blended the qualities of the traditional feminine role with the role of professional woman and civic and cultural leader. A former president of the State and local PTAs and the Cosmos Club, Mrs. Walker was also a regular docent at the Dixon Gallery in Memphis, Tennessee.
A civic leader and lover of Forrest City , she served on the Chamber of Commerce Board of Directors and was often spotted around town, along with others, wearing a green blazer while snipping ribbons to open new businesses throughout St. Francis County. A number of years ago, Mrs. Walker was chosen the Forrest City Woman of the Year. She also nominated and helped secure the Arkansas Mother of the Year Award for her mother-in-law, Alice Bramel Walker. And like her mother-law-before her, Mrs. Walker was an active member of the First United Methodist Church in Forrest City where she was a long time Superintendent of Sunday Schools and a member of the UMW.
In 1984, Mrs. Walker married Dr. Edward Skinner, Professor of Thoracic Surgery at UT Medical School in Memphis, Tennessee. They were twin residents of Forrest City and Memphis until Dr. Skinner's death in 1997. During that time and to the present, Mrs. Walker was faithfully assisted for 21 years by her secretary Cheryl House.
She was a favorite of her grandchildren, Anne Catharine Reeves, Dr. Allan Strand, III, Dr. Elizabeth Bramel Strand, Clark Walker Strand, William Clement Walker, III, Alice Elizabeth Walker, Frances Anne Thomas, Dr. Mary Walker McCampbell; James Henry Kelley, III. Mrs. Walker is also survived by 12 great-grandchildren and seven great-great-grandchildren.
Ganee, as she was affectionately called, would take them on trips together or have them at "camp" in her big home on North Division Street. One of them remarked recently, "Ganee made my summers!"
In the living room of that same big house, and as a part of her civic duties, Mrs. Walker contracted with Elvis Presley to perform at the 1954 St. Francis County Fair. She brought Presley back the following year to perform in Forrest City to raise money for the Park Commission.
Funeral services will be held Tuesday, November 18, 2014 at 2 p.m. at the First United Methodist Church. Burial will follow at Forrest Park Cemetery. Visitation will be at 1 p.m. before the service at the church. The family request memorials be made the First United Methodist Church, P.O. Box 66, Forrest City, Ark. 72336. Visit online registry at stevensfuneralhome.net. Under the direction of Stevens Funeral Home.
Published November 18, 2014
OBITUARY SUBMITTED BY:
Stevens Funeral Home
220 North Washington Street, P.O. Box 627, Forest City, AR
Phone: 870-633-5400