Cecil Clarence Moix
Conway, AR, 1921 - 2014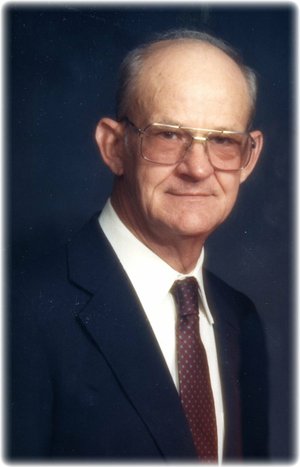 Cecil Clarence Moix, 92, of Conway, passed away Monday, November 17, 2014. Mr. Moix was born December 9, 1921 in Conway, a son of the late Maurice Moix and Christina Thessing Moix. He is also preceded in death by Ida Moix, his wife of 67 years, his parents and brothers, Maurice Henry, Ernest, Richard and infant Edward Moix.
Mr. Moix was a graduate of St. Joseph High School in Conway and Draughn's School of Business in Little Rock. He began his career as a young man working with his father and brothers at the Moix Company store and later at Lasley's Mercantile. Cecil and his beloved wife Ida later owned and operated Cecil's Fabrics on Front Street next to Simon's Grocery. They retired in 1985 after 25 years in business. Mr. Moix was a life-long member of St. Joseph Catholic Church where he participated in various organizations and activities, including the Catholic Knights of America, the St. Vincent De Paul Society, and the annual Bazaar and flea market.
He leaves his children, Cecil Moix of Royal Oak, Michigan, Phyllis Simon (Ray) of Conway, Nancy Patterson (Jim) of Fort Smith, and Jane Pounders (Phil) of North Little Rock; grandchildren, Dr. Sandra Simon Halliburton (Michael) of Shaker Heights, Ohio, Dr. Philip Pounders (Jamie) of Little Rock and Jonathan Pounders of North Little Rock; great-grandchildren, Alex and Ana Halliburton of Shaker Heights, Ohio.
Rosary will be led by Deacon Gerald Harrison at 6 p.m. Friday, November 21, 2014 at Roller-McNutt Funeral Home followed by visitation at 7 p.m. Mass of Christian Burial will be at 11 a.m. Saturday, November 22, 2014 at St. Joseph Catholic Church, with Father John Marconi serving as Celebrant. Entombment will follow at St. Joseph Mausoleum. Pallbearers will be Ray Simon, Phil Pounders, Philip Pounders, Jonathan Pounders, Alex Halliburton, and Al Hiegel.
Memorials may be made to The Alzheimers Association, 10411 W. Markham St., Suite 130, Little Rock, Ark. 72205 and St. Joseph Catholic Church. Online guest book: www.rollerfuneralhomes.com.
Published November 19, 2014