Helen Louise Moses
McGehee, AR, 1923 - 2014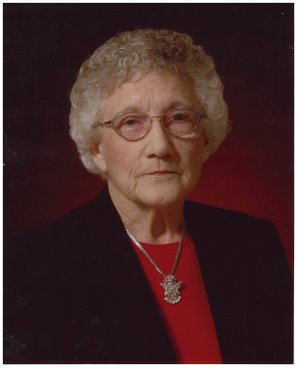 Helen Louise Andrews Moses, 91, of McGehee, died on November 23, 2014, in Drew Memorial Hospital in Monticello. She was born January 25, 1923, in Midway, Drew County, Ark. to Carroline McGough Andrews and William David Andrews. She attended Midway School, graduated from Drew Central High School in 1940 and attended Arkansas A&M. She married William Don Moses, Sr. on July 7, 1942. They moved to McGehee where he worked for Missouri Pacific Railroad. They had three children. Helen was a member at First Baptist Church in McGehee for 72 years. She volunteered at First Baptist McGehee in Sunday School, W.M.U., quilting group, ukulele group, committees on bereavement and communion, and senior church trips. She enjoyed working at the voting polls on every Election Day. She loved to cook for her family and won the Desha County blue ribbon for her chocolate pie. She loved to sew and enjoyed all of her grandchildren and great-grandchildren.
Before her husband's death in 1998, they celebrated 56 years of marriage. She was preceded in death by her parents, Carroline and William David Andrews; her five brothers and four sisters; her husband William Don Moses Sr.; her son-in-law, Charles Brent Somervell Sr.; her oldest grandson, Charles Brent Somervell Jr. She is survived by her children; Donna Moses Somervell of McGehee; William Don Moses Jr. and wife Sue of Oakland, Tenn.; Kay Moses Mullis and husband, Danny, of Naples, Fla.; five grandchildren; twelve great-grandchildren; three great-great-grandchildren; many nieces, nephews and close family friends.
Visitation will be at Griffin-Culpepper Funeral Service in McGehee on Tuesday, November 25, 2014 from 6-8 p.m. The funeral will be in Griffin-Culpepper Funeral Service Chapel in McGehee on Wednesday, November 26, 2014 at 10 a.m. with Dr. Ed Balducci and Dr. Tommy Cunningham officiating. Graveside will be in McGehee Cemetery following the service. The pallbearers will be grandsons and great-grandsons. On-line guestbook may be signed at www.griffinculpepper.com.
Published November 25, 2014
OBITUARY SUBMITTED BY:
Griffin Funeral Services
105 North 2nd Street, P.O. Box 319, McGehee, AR