William "Gene" Orr
Humble, TX, 1953 - 2014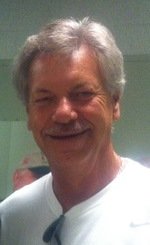 William "Gene" Orr left us to be with the Lord on November 22, 2014 in Humble, Texas. He was born in Lepanto, Arkansas on June 20th, 1953.
He leaves behind his wife and soul mate of 32 years, Cindy; his children, Whitney and husband Seth Rudolph; Shane and wife Abby Orr; Shannon Orr and boyfriend Grady Sanders; grandchildren, Libby and Annie Orr; siblings Henry "Earl" Holt; Stella and husband Ronnie Haynes; Jo Faye and husband Cary Stimson Sr.; John Paul and wife Kelly Orr; and mother-in-law Parnell Brunner. He was preceded in death by parents, Joseph and Sylvia Orr.
He spent his childhood in Trumann, Arkansas and later attended Arkansas State University. He loved to spend nights with family singing karaoke and cheering on his Arkansas Razorbacks. His rendition of "The Chair" is widely renowned to be better than King George's himself. He was loved for his sense of humor and larger than life personality. He was a son, husband, dad, coach, brother, friend and everything in between. He was one of a kind and will be truly missed by every life he touched.
Published November 25, 2014