Vernon Lee Glenn
of North Little Rock, AR, 1926 - 2014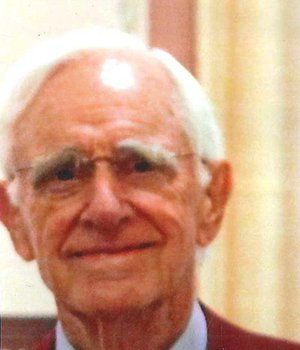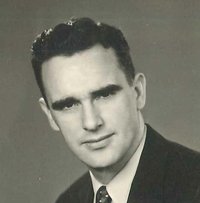 Vernon Lee Glenn, Ed.D. formerly of Hot Springs, Arkansas, passed away on October 8, 2104 in North Little Rock at the age of 88. He was born June 29, 1926 on the family farm just outside of Lynn, Arkansas.
Vernon was preceded in death by his parents, John Valentine Glenn and Ettie Eli Justus Glenn of Lynn, brothers, Austin Glenn of Conway, Ark., and Warren Glenn of Lynn, and a sister, Louise Glenn Pace, also of Lynn. He is survived by his wife of 65 years, Alice Marietta Gurley Glenn, and by his sister, Virginia Dale Glenn Smith, of Metairie, La. Vernon was a great father to his children, Stephen Gurley Glenn (Deborah) of North Little Rock, Ark., and Suzetta Lee Glenn of Hot Springs, Ark. His children gave him five grandchildren: Adam Mashburn Glenn (Lindsay) of Alexander, Ark., Noah Mashburn Glenn (Lindsey) of Memphis, Tenn., Hannah Marie Glenn of North Little Rock, Ark., Jamin Glenn Harrison of Seattle, Wash., and Marelle Glenn Moehrle of Seattle, Wash. He also was blessed with two great-grandchildren: Mary Abigail Glenn of Alexander, Ark., and Ruby Jane Glenn of Memphis, Tenn. He was excitedly awaiting the arrival of his first great-grandson.
He graduated from Lynn High School, Arkansas State University (Bachelor in Physical Education) and the University of Arkansas (Masters in Counseling Education and Doctorate in Education).
Vernon grew up on the family farm outside of Lynn. He joined the Army Air Force in 1945, completing basic training at Kelly AFB in San Antonio, Texas and at Lowry Field, Colo. After advanced training at Holibird Signal Depot in Baltimore, Md., he served in the Counter Intelligence Corps in Germany and later served our country during the Korean War.
After returning from Germany he enrolled at Arkansas State University (ASU) where he met Marietta, his wife of 65 years, while waiting at a bus stop. After completing his Bachelor's degree at ASU in 1952 he began his teaching career in Peach Orchard, Mo. Soon after, he became Superintendent and Coach for the Clover Bend, Arkansas School District. During that time he also worked toward his Masters in Counseling Education at the University of Arkansas, completing it in 1957. He then began a 37 year career serving individuals with disabilities while employed by the Arkansas Rehabilitation Service (ARS) and the University of Arkansas Research and Training Center (AR&TC). He began as a Rehabilitation Counselor in Blytheville, Ark. In 1960 he transferred to the Hot Springs Rehabilitation Center where he began as Supervisor of Vocational Training and was later promoted to Assistant Administrator. At the age of 40 he and his family moved to Fayetteville while he worked half time as Administrator of the Arkansas Research and Training Center (ARRTC) and half time as a student, working toward his Doctorate in Education which he completed in 1968. He was then appointed Director of the ARRTC, followed by his appointment in 1975 as head of the Department of Rehabilitation Education and Research in the College of Education, University of Arkansas. Vernon was highly respected and nationally recognized as a man of high integrity. Under his leadership the Department was awarded eight to 10 million dollars of Federal Funds for Research Development. He also served as a tenured Professor in the UA College of Education and Health Professions Department where he taught doctoral level students in the area of Rehabilitation Education. When he retired in 1994 he was awarded the title of Professor Emeritus of Rehabilitation Education, and a scholarship was established in his name.
Vernon loved to play and sing country bluegrass music. He sang and played guitar all of his life, starting at the age of 15 when he accompanied hymns for religious revivals held under a brush arbor near the family farm in Lynn. At the age of 78 his son and grandson made a home recording of him "pickin' and singin'" some of his favorite songs, culminating in a CD with the title "Silver Haired Daddy".
Vernon was a man of character, integrity and genuine humor, admired both professionally and personally. He lived a good and simple life, and, along with his wife, Marietta, exemplified the meaning of life-long dedication and support to family. The world is a better place because of the impact he had on so many lives, especially his family and friends.
Visitation Service will begin at 10 a.m. on Saturday, October 11, 2014 at Griffin-Leggett Rest Hills, 7724 Landers Road, North Little Rock, Ark., followed by a Celebration of Life Service at 11 a.m. Memories of Vernon may be shared online at www.griffinleggettresthills.com.
In lieu of flowers, memorial contributions may be made to the: Vernon Glenn Memorial Fund, University of Arkansas Rehabilitation Program, 214 Graduate Education Building, Fayetteville, Ark. 72701.
The family wishes to express sincere thanks and gratitude to Nancy, Bill, Anthony, Verna Erica, Shante and Nicole and the staff Fox Ridge in North Little Rock, to Arkansas Hospice for their compassionate care, to Dr. Beverly Curseen, to the Community Bible Study Leaders and to Deborah Glenn for her loving and personal care.
Published October 10, 2014
OBITUARY SUBMITTED BY:
Griffin Leggett — Forest Hills Funeral Home
1200 Highway 5 North, Alexander, AR
Phone: 501-455-1067
http://www.griffinleggettforesthills.com/