Martha McCallum Beaumont
Memphis, TN, 1911 - 2014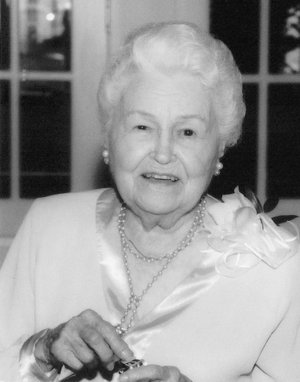 Martha McCallum Beaumont, 103, of Memphis, Tenn., a long-time resident of Newport, Ark., died October 7, 2014. She was born June 7, 1911, in Union Church, Miss., the daughter of Samuel Tucker and Lily (Winters) McCallum.
Martha grew up in Lake Village, Ark., where she graduated from high school in 1928. She worked as a secretary until she married Lauren Hunter "Beau" Beaumont May 3, 1931. She lived in Little Rock, Conway and Fort Smith during Mr. Beaumont's career with International Harvester. They bought a dealership in Newport, Ark., in 1943 named Gregory-Beaumont, which later became McDonald-Beaumont.
She was a homemaker and an active member of the PTA and Chapter R of the P.E.O. Sisterhood, serving as president of both. Martha was extremely creative, an excellent seamstress, and a wonderful cook and hostess. Always well informed, she enjoyed discussing politics and investments. She was also known as a good neighbor and friend.
Martha had a strong faith and loved her church, First United Methodist of Newport, where she had been a member since 1943. Always willing to serve, she was president of the United Methodist Women and a circle chairman. Martha was an inspiration to everyone she met. She always gave her best effort, working hard in her church, community and home.
Martha was preceded in death by her husband Beau on March 28, 1961; two brothers, John and William McCallum; two sisters, Blanche Clem and Nettie Gibson; and a son-in-law, David Williams Sr. She is survived by her son, Larry Beaumont (Kathy) of Birmingham, Ala.; her daughters, Billie Anne Williams of Memphis, Tenn., and Mary Katherine Williams (Jim) of Fayetteville, Ark., and a brother, Robert McCallum of Fallon, Nev., who came to live with her and Beau following the death of his parents, and with whom they shared a special bond. Other survivors are eight grandchildren, David Williams Jr. (Lori) of Collierville, Tenn., Anne Dunn (Kevin) of Avondale Estates, Ga., Hunter Beaumont of Denver, Col., Brent Beaumont (Katie) of Savannah, Ga., Ben Beaumont (Claire) of Little Rock, Ark., James Williams of Brooklyn, N.Y., Louise Pedersen (Andy) of Omaha, Neb., and Martha Williams of Hailey, Ida., and nine great-grandchildren, Ella Grace and Walker Dunn, of Avondale Estates, Ga., Walker and Lauren Beaumont of Savannah, Ga., Makayla Williams of Collierville, Tenn., Lucy and Hank Beaumont of Little Rock, Ark., and Beau and Samuel Pedersen of Omaha, Neb.
The family wishes to thank Ciretha Barton, her devoted caregiver for many years. Funeral services will be October 16, 2014, at 2 p.m. at First United Methodist Church of Newport with Rev. Hunter Beaumont and Rev. Brad Elrod officiating. Visitation at the church will be at 1 p.m. Interment will follow in Walnut Grove Cemetery.
Pallbearers are David Williams Jr., Brent Beaumont, Ben Beaumont, James Williams, Kevin Dunn and Andy Pedersen. Honorary pallbearers are her nephews, Gaston Gibson, Ray Clem, Larry Clem, Phil Clem, John McCallum, Ray McCallum, Bill McCallum and Chuck McCallum. Other honorary pallbearers are John Purdy, Phil McDonald, Marvin Thaxton, Craig Wood, Kaneaster Hodges Jr. and Jim Williams.
To leave a condolence, light a memorial candle, or view the online guestbook, please visit our website at www.jacksonsfh.com. Memorials may be made to First United Methodist Church, 3rd and Laurel Street, Newport, Ark., 72112; Billingsley Memorial Library, 213 Walnut Street, Newport, Ark. 72112; or Second Presbyterian Church Caring Dept., 4055 Poplar Avenue, Memphis, Tenn. 38111. Arrangements by Jackson's Newport Funeral Home.
Published October 14, 2014
OBITUARY SUBMITTED BY:
Jackson's Funeral Home
1900 Malcolm Avenue, Newport, AR
E-mail: khunt@jacksonsfh.com
Phone: 870-523-5822