John Thomas Suskie Sr.
of Little Rock, AR, 1936 - 2014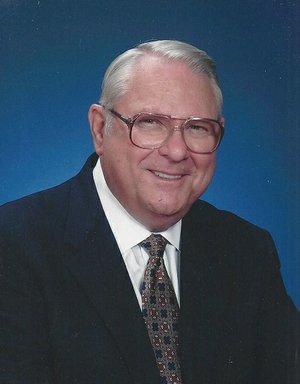 JOHN THOMAS SUSKIE SR., 78, of Little Rock died Oct. 17, 2014.
John, a well-known figure in the Arkansas business and political communities, was the former executive director of the Arkansas Asphalt Pavement Association, a former president of the Arkansas Good Roads Transportation Council and a former area manager for the U.S. Department of Housing and Urban Development. He had a long interest in public affairs in the state and was appointed by Gov. Mike Huckabee to the board of Pulaski Technical College. He was twice reappointed by Gov. Mike Beebe.
John was born July 16, 1936, at DeValls Bluff and was raised during the Great Depression and World War II by a Polish immigrant family on the Grand Prairie. He was taught at an early age that public service is an honorable profession and that government can play a role in improving the lives of Americans, especially through education. One of John's most vivid boyhood memories was being allowed to sound the town alarm so that the residents of DeValls Bluff could gather to hear that World War II had ended. John took pride the remainder of his life in being from Prairie County and in his Polish roots.
John later was the starting quarterback at DeValls Bluff High School. He believed athletics could teach young men and women many life lessons. John was a voting member of the Arkansas Sports Hall of Fame and a member of the Little Rock Touchdown Club. He was an avid fan of the University of Arkansas football team, a passion he passed on to his children.
After graduation from high school, John enlisted in the U.S. Air Force and served a tour of duty in Korea during the Korean War. While stationed at Tinker Air Force Base in Oklahoma City after the war, he met his future wife, Melba Lowder, who was a nursing student at the time. After they were married on the base by a Catholic priest, the couple moved to Fayetteville so John could attend the University of Arkansas on the GI Bill. He graduated with a degree in biology in 1961 and was the first member of his family to obtain a college degree. It was during those years that his love of Razorback football began.
John's career started with Arkansas Power & Light Co. (now Entergy Corp.) at Pine Bluff. He was active in civic affairs, being elected president of the Pine Bluff Jaycees. John later was inducted into the U.S. Jaycees Hall of Leadership. He then moved into the real estate business, where he worked for the National Home Builders Association, first as a field representative at Pine Bluff and later as the organization's associate director in Washington D.C. John returned to Arkansas to serve as the executive vice president of the Arkansas Home Builders Association and the Home Builders Association of Greater Little Rock from 1968-71. John then entered the for-profit sector, where he was employed by Apartment House Builders Inc., Rainey Realty and Fausett & Co. Through the years, John received major awards from the National Association of Home Builders and the Arkansas Chapter of the American Planning Association.
John was appointed by President Carter to serve as the area manager for the Department of Housing and Urban Development. He spent 16 years working for the federal government prior to becoming president of the Arkansas Good Roads Transportation Council, where he helped lead efforts to approve a major bond issue in 1999 to rehabilitate the interstate highway system in the state. He then worked for the Arkansas Asphalt Pavement Association until his retirement at age 75. He was known for his ability to get along with both Democrats and Republicans, always doing what was best for Arkansas.
John is survived by Melba, his wife of 58 years, and six children, Mary Suskie Carter of Plano, Texas, Anne Suskie Pinyan (Rob) of Little Rock, Renee Suskie Kovach (Stephen) of Little Rock, John T. Suskie Jr. (Neddie) of Little Rock, Bruce Suskie (Kelley) of Little Rock and Paul Suskie (Erica) of North Little Rock. He is also survived by a sister, Barbara Williams of North Little Rock, 13 grandchildren and five great-grandchildren. John was preceded in death by his parents, Johnny and Violet Price Suskie of DeValls Bluff; sister, Doris Ulry, and great-grandson, Kyle McWilliams Jr.
John was proud of his children, grandchildren and great-grandchildren and took an intense interest in their education. He called his six children his legacy. John was a devout Roman Catholic who was influenced as a child by his Polish immigrant grandmother, who read her Polish Bible on a daily basis. John and Melba were founding members of Christ the King Catholic Church in Little Rock, where John served on the parish council. He was a strong supporter of Little Rock's Catholic High School for Boys and Mount St. Mary Academy, where 12 of his children and grandchildren have graduated or will graduate.
Visitation will be Monday, Oct. 20 from 5-7 p.m., followed by the Rosary at 7 at Christ the King Catholic Church in Little Rock. The Mass of Christian burial will be celebrated by Msgr. Francis I. Malone at Christ the King on Tuesday, Oct. 21 at 10 a.m., followed by interment with Military Honors at the Arkansas State Veterans Cemetery in North Little Rock.
The family would like to thank all the doctors, nurses and caregivers that took care of John. In lieu of flowers, the family requests that memorials be made to Christ the King Catholic Church, 4000 N. Rodney Parham, Little Rock, AR 72212.
Arrangements by Little Rock Funeral Home, 8801 Knoedl Ct., (501)224-2200. John's online guestbook may be signed at www.littlerockfuneralhome.com.
Published October 19, 2014
OBITUARY SUBMITTED BY:
Little Rock Funeral Home
8801 Knoedl Ct., Little Rock, AR
Phone: 501-224-2200