Lee Rene Frazier
of Little Rock, AR, 1946 - 2014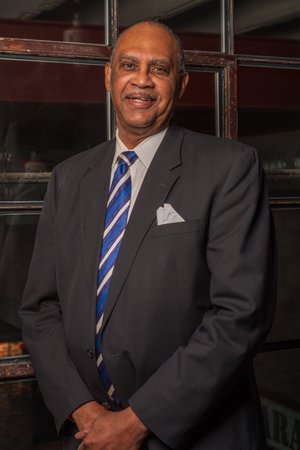 LEE RENE FRAZIER, of Little Rock, Ark. was born on Aug. 31, 1946 in Washington, D.C. to Charles and Doretha (Stewart) Frazier. He died peacefully at his home in Little Rock, Ark. on Oct. 16, 2014. Lee was born in Washington because his very iron-willed, assertive and confident mother left New Orleans to work for the Truman White House and then for the U.S. Supreme Court.
However, all of Lee's family was deeply rooted in Algiers, New Orleans, La., which is where he eventually returned after graduating from Archbishop Carroll High School in Washington, D.C. When he came back to New Orleans, he reconnected with the charming and beautiful Deborah Ann Lombard. When Deborah was a young girl sitting on the front porch of her Aunt Carmelite's house, she would see Lee riding by on his bicycle. She resolved not to talk to that "trouble-making boy," but thankfully for their children, she did anyway. They were married on Aug. 24, 1968 and have been happily in love ever since then.
Lee was recruited by Loyola University to integrate their basketball team. He later earned his masters at the Tulane School of Tropical Medicine and Public Health. Lee was appointed by then Governor Edwin Edwards to be the first African American and the first non-physician to manage Charity Hospital in New Orleans, La. He then went on to run Harlem Hospital in New York City, N.Y. and Provident Hospital in Chicago, Ill. He returned to New Orleans to re-open the former Sarah Mayo Hospital. During this time, he was elected to the Louisiana General Assembly.
He was recruited by St. Vincent's Infirmary in Little Rock, Ark. and moved his family here in 1989, where the family formed many long lasting friendships. Although he "retired" from St. Vincent's Rehabilitation Hospital in 2012, he was called back into service to assist Valir Rehabilitation Hospital in Oklahoma City, Okla. He was also a Fellow in the American College of Healthcare Executives.
He made many friendships in Oklahoma, as he had everywhere else. Although he seemed an imposing figure at 6 feet, 8 inches, Lee was known for his generosity, kindness and big heart. He cared deeply for all of his patients and employees throughout his life and went out of his way to make all of them feel valued and important as children of God.
During his life, he was a member of many boards and commissions in Louisiana, Arkansas, Oklahoma, Illinois and New York. His business and civic endeavors are too long and numerous to list in a simple obituary. But more important to Lee than any of his professional accomplishments, recognitions or awards was his family. Quite simply, his family was his reason for living. His greatest delight was in taking care of his wife, Deborah Ann (Lombard) and his five girls, Michelle, Bridgette (Mark Sims), Adrienne (Doug Irely), Yvette and Juliette. They were the light of his life. He loves his girls fiercely and they all love their daddy. All of them to various degrees are daddy's girls. He taught them all the importance of loving and trusting the Lord and the importance of family. Lee showed his girls through words (of which there were many, especially during the teenage years) and deeds the importance of kindness, character and how a husband should treat his wife.
Besides Deborah and the five girls, his immediate family includes his grandchildren, Lee Isaac, Isabella, Spencer, Ava, Aiden and Steele. His large extended family includes his "brother," Alex Selico Henderson Dunn; his many sisters and brother in laws, who he loved as his own brothers and sisters. He is preceded in death by his parents, Charles and Doretha Frazier, and Grace and Anthony Lombard.
It wouldn't be fair to say he left them behind, indeed he trained them up well in the way that they should go and he has gone ahead of them to pave the way home. (He really was always looking out for and taking care of his family).
He will be buried at home in New Orleans, but his family will have a Memorial Service in Little Rock. Those arrangements will be made through Ruffin & Jarrett Funeral Home, 1200 S. Chester St., Little Rock, AR (501) 372-1305.
His family will miss his warmth and his love, but are gratified by the thought that St. Peter has met him in the light saying, "Well done good and faithful servant, well done."
Published October 19, 2014
OBITUARY SUBMITTED BY:
Ruffin & Jarrett Funeral Home
1200 Chester St., Little Rock, AR
Phone: 501-372-1305