Leo "Papa" Dillon
of Sherwood, AR, 1923 - 2014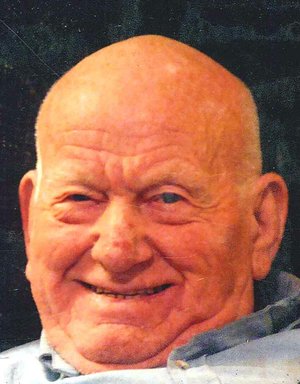 LEO "PAPA" DILLON, 91, of Sherwood Ark. passed away Friday, Oct. 17, 2014. He was born May 3, 1923 to Luther and Millie Dillon. After serving in the United States Navy, he worked as a carpenter and then ultimately pursued and mastered a career as a butcher for Safeway/Harvest Foods until retirement. Papa was a wonderful role model, first and foremost as a Christian, then a husband, a father, a grandpa, a brother and a friend. He held fast to his faith, never wavering in his beliefs and values. His work ethics were top-rated. He was hardworking and dependable not only at work, but in every area of his life. He always ensured his family was well provided for. Papa was a faithful husband for 57 years. He truly lived out his vows with his constant care and undying love for Ninnie during her last five years of illness. He also loved doing for others, whether it was baking cakes, making Papa punch, mowing and raking neighbors' lawns or doing anything he could to help his children or grandchildren. He was always the one everyone knew they could count on. Although Papa never expected anything in return, he was always so appreciative and grateful for each and every act of kindness or good deed shown. He never forgot how to say thank you and he always remembered to say a prayer before eating a meal.
Leo was preceded in death by his wife, Bethel Royce Dillon; his son, Rusty Dillon; his parents, Luther and Millie Dillon; four brothers, Benny, Vernon, Elton and Barney; two sisters, Odean Dillon and Jewell Copeland. He is survived by one son, David Dillon; two grandsons, Stephen and Matt Dillon; one sister, Doris Clark and two brothers, Troy "Buck" and L.D. Dillon. He also leaves many other family members and special friends which he loved dearly.
Our family will be forever grateful to David and Matt for the awesome care they so willingly gave to Papa. The two of them always made sure that every hour of every day Papa received the best of care. There was no doubt that everyone knew Papa was treated like royalty and never had to want for anything. Thank you David and Matt, we love you so much.
The visitation will be Monday, Oct. 20, 2014 from 6– 8 p.m. at Griffin Leggett Rest Hills Funeral Home, North Little Rock, Ark. The funeral will be Tuesday, Oct. 21, 2014 at 1 p.m. at the First Pentecostal Church, 1401 Calvary Road, North Little Rock, Ark. Burial will immediately follow at Griffin Leggett Rest Hills Memorial Park. Arrangements are under the direction of Griffin Leggett Rest Hills Funeral Home, North Little Rock, AR. An online obituary and guestbook are available at www.griffinleggettresthills.com.
Published October 19, 2014
OBITUARY SUBMITTED BY:
Griffin Leggett — Forest Hills Funeral Home
1200 Highway 5 North, Alexander, AR
Phone: 501-455-1067
http://www.griffinleggettforesthills.com/