Antony Joseph "Joe" Batchelor
Conway, AR, 1995 - 2014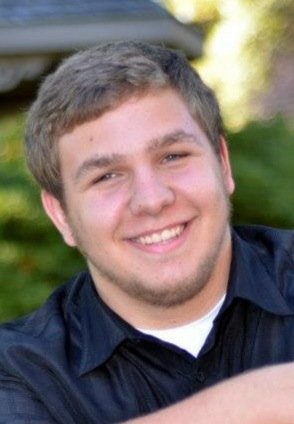 Anthony Joseph "Joe" Batchelor, 19, of Conway, passed away October 18, 2014. He was born in Little Rock on March 18, 1995 to Kenneth Lynn Batchelor and Celeste Bailey.
Joe was often called "the bear" and he was a big teddy bear. He was a gentle giant. He loved reading, especially Harry Potter. He had a love of history, woodworking, inventing and especially enjoyed all kinds of food – he was a "joy to feed". He loved spending time with his family, friends and especially Kayla. He was patient and kind and loved his job at Conway Fitness Center Daycare working with all of the kids. He was easy going and hated any kind of discord, but watch-out when he did get angry! He always made sure the ones he loved knew he loved them – he will be missed more than words can say!
He is survived by his mother and father, Celeste and Ray Bailey; sister, Sarah Bailey; brothers, James Batchelor and Ryan Bailey; the love of his life, Kayla Pruitt; great-grandmother, Lorene Wright; grandparents, Glenda Batchelor, Richard and Cecilia DeSalvo; godparents, Natalie and Gary Beck; aunts and uncles, Janie and Howard Yates, Ellen Johnston, Terri and Rick George, Laura and Ed Moore, Joelle and Todd Lowder, Jack Batchelor, Jim and Patsy Bailey, Frank and Martha Bailey, Bobby and Linda Bailey, and Danny Bailey; countless friends, cousins, and other loving family members. He is preceded in death by his father, Kenneth Lynn Batchelor; grandfather, Kenneth Batchelor and his aunt, Lorinda Heimer.
Mass of Christian burial will be 11 a.m. Wednesday, October 22, 2014 at St. Joseph Catholic Church in Conway with Father Robert Cigainero officiating. Entombment will follow in the St. Joseph Mausoleum. Serving as pallbearers will be his cousins, Richie Tanner, Kyle Johnston, Frankey Clayton, Nicholas Moore, Wade Beck, and Tyler Loughridge. Honorary Pallbearers are the St. Joseph Class of 2013. Visitation will be Tuesday evening beginning at 6 p.m. with visitation to follow at 7 p.m.
In lieu of flowers the family requests memorials be made to the St. Joseph Endowment, Teacher Appreciation Fund, P.O. Box 72, Conway, Ark. 72033. For online obituary www.rollerfuneralhomes.com.
Published October 21, 2014
OBITUARY SUBMITTED BY:
Roller-McNutt / Conway
8th and Vine, P.O. Box 249, Conway, AR
Phone: 501-374-2731