Renea Deann Rushin
of Little Rock, AR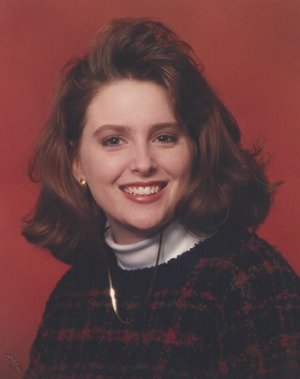 Renea Deann Rushin, 42, of Little Rock, passed over to the other shore peacefully on October 19, 2014. Preceded in death by her father, Dwayne Blue, and her grandparents, especially Lucille Stover "Mam-maw." She is survived by her awesome husband, Michael Rushin Jr.; daughter, Abigail Nicole "Abby"; son, Zachary Andrew "Mount" Rushin; mother, Barbara Stover Blue; and sister, Stephanie Brown and husband, Keith, and her nephews, Carter and Kellen, all of Little Rock, and her beloved Aunts, Uncles, and cousins.
Seemingly quiet, but not to be underestimated, Renea could hold her own and then some. Quick-witted with a little smile, she would crack us up with a one-liner, usually aimed at Michael in response to his constant teasing. She had an awesome sense of humor and playful nature. She was right at home in the crazy Rushin family—always in costume at theme parties and competing in family contests for "Best Witch Laugh" at Halloween or "Best Hula Dance". When pregnant with Abby, she referred to her as "Skeletor" and would later refer to Abby and Zach as "Children of the Corn". One Halloween when her hair was gone, she even dressed up as Uncle Fester!
Her attention to detail was evident throughout her life, from her wedding to her sweetheart to the kid's nurseries and school projects to the Shriner's Potentate Ball. Incredibly creative and aesthetically gifted, to watch her brainstorming to executing a simple party to an event for 200 was to stand in awe of her talent. Her Christmas trees were epic and her house worthy of any magazine cover.
She was the stabilizer, the perfect complement to Michael's frantic energy. Standing proud and strong with Michael throughout all of his endeavors in DeMolay, Rainbow, and the Shriners, she leaves behind that loving family as well. Her friends have spoken of her willingness to support her family in every necessary. Always present, always smiling, and offering her unselfish support at every turn. A steadfast example of true devotion, her love for her children was without question. She was always cheering Zach at football and applauding Abby's concerts. She was also, on occasion, the diffuser for Coach Michael when he got a little overzealous at a game, "MICHAEL!"
She was respected and loved by her American Data Network family as well as her football family. Her "Supper Club" family also was a constant support of love and laughter. Renea's nephews' faces lit up when they saw "Auntie Nea-Nea!" She was a daughter, not a daughter-in-law and a sister, not a sister-in-law. Pity-parties didn't last a minute until she was fighting through with grace. "We Won't Quit" and #standstrongforrenea became the rally cry. "Go Bucs Cancer Sucks!"
You are our beloved Nea-Boo and we are so pleased that you are with your Father in Heaven; however, it's not "love ya, miss ya, bye", but "See ya later, sweet angel."
Visitation will be Friday, October 24 from 6-8 p.m. at Little Rock Funeral Home, 8801 Knoedl Ct., (NW corner I-630 and Barrow Rd.). Services will be Saturday, October 25 at 1 p.m. at Chenal Valley Church, 16025 Taylor Loop Road, officiated by Mr. Chuck Monan. Interment will follow at Forest Hills Memorial Park in Alexander.
In lieu of flowers, Renea requests that you make a donation to the Shriners Hospitals for Children – Shreveport, 3100 Samford Avenue, Shreveport, La. 71103, (318) 226-3300. Arrangements by Little Rock Funeral Home, (501) 224-2200. Renea's online guestbook may be signed at www.littlerockfuneralhome.com.
Published October 22, 2014
OBITUARY SUBMITTED BY:
Little Rock Funeral Home
8801 Knoedl Ct., Little Rock, AR
Phone: 501-224-2200