Frank Allen Burkhalter
Sherwood, AR, 1925 - 2014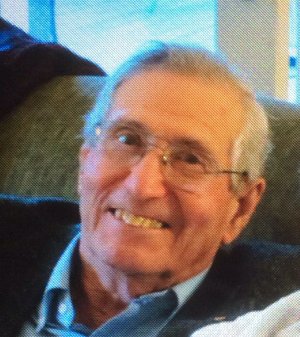 Frank Allen Burkhalter, 89, of Sherwood passed away in Orange Beach, Alabama on October 23, 2014. He was born August 21, 1925 in Ponca City, Oklahoma.
He is survived by his wife, Loyce Ann; five children: Carol Ann McFarland, George Ann Tabor, John Collins Burkhalter, Nancy Kaye Hayden, and Patricia Lynne Hausman; nine grandchildren: Scott McFarland, Whitney Sanders, Ashley Hayden, Jonathan Ryan Hausman, James Allen Hausman, Johnna Kay Burkhalter, Anna Grace Burkhalter, Button Mann, and Charlie Tabor; and three great-grandchildren: Thomas Tabor, Ryleigh Tabor, and Gabe Mann.
As a boy, he learned to work with his hands building houses, growing plants, camping, and fishing. He was an Eagle Scout and later served as Cub Scout and Boy Scout scoutmaster while raising his family in Sylvan Hills, Arkansas.
He served in the Pacific theater on a PT boat during World War II. After the war, he attended Arkansas Tech University. He went on to the University of Arkansas at Fayetteville and graduated with a Bachelor of Science in Civil Engineering.
He was a registered land surveyor and licensed professional engineer. He was a structural engineer for the Little Rock District of the U.S. Army Corps of Engineers, working on major infrastructure projects in the 1950's, 60's and 70's including Beaver Dam, Greers Ferry Dam, Table Rock Dam, the Titan missile sites, the Arkansas River navigation project, and the bridges on Lake Norfork. He worked his way up to chief of the structural department. He designed and built runways, taxiways, hangars, and other structures at the Little Rock Air Force Base in Jacksonville.
He was active in the United Methodist Church. He was a founding member of the Branson (Missouri) United Methodist Church and the Orange Beach (Alabama) United Methodist Church. He was a trustee and served on the building committees for Sylvan Hills United Methodist and Orange Beach United Methodist Church.
Frank loved to grow things: vegetables, roses, fruit trees, azaleas, and the camellias he fell in love with. His yard in Orange Beach contains over 200 varieties of camellias, many of them award winners. He spread his love of these flowers and plants all over Orange Beach.
He enjoyed building things and was an accomplished carpenter. He built the home his family was raised in, his retirement home in Alabama, and a home in northern Arkansas for his daughter. He built kitchens, furniture, and many other things for his children.
He fished, hunted, played golf and taught his family to enjoy these activities with him. He enjoyed the lakes and rivers in Arkansas, but once he saw the Gulf of Mexico he knew he wanted to retire there and enjoy gulf fishing.
He enjoyed sports and the outdoors. He camped with his family all over the United States, and he was always watching or listening to a game. He was a Razorback, St. Louis Cardinals, and Atlanta Braves fan. He enjoyed attending his children's choir, band, scouting, and sporting events.
Funeral services will be Tuesday, October 28, at 10 a.m. at Sylvan Hills United Methodist Church at 9921 Arkansas 107, Sherwood, Ark. 72120, (501)835-3410, with interment following at 12 noon at the Arkansas State Veterans Cemetery, 1501 W. Maryland Ave., North Little Rock, Ark. 72120. Arrangements are in the care of Roller-Owens Funeral Home, 5509 John F. Kennedy Blvd., North Little Rock, Ark. 72116, (501)791-7400.
In lieu of flowers, the family requests that donations be made to: Sylvan Hills United Methodist Church, 9921 Arkansas 107, Sherwood, Ark. 72120, (501)835-3410 or Orange Beach United Methodist Church, 28751 Canal Rd., Orange Beach, Ala. 36561, (251) 981-6751. Please share memories and words of encouragement in his online guestbook: www.rollerfuneralhomes.com/owens.
Published October 28, 2014
OBITUARY SUBMITTED BY:
Roller-Chenal Funeral Home
13801 Chenal Parkway, Little Rock, AR
Phone: 501-224-8300
http://www.rollerfuneralhomes.com/chenal