Perry Greenwood
Fayetteville, AR, 1920 - 2014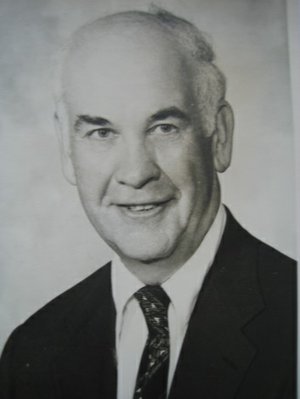 Perry Greenwood, of Fayetteville, died on September 6, 2014. He was born in Clyde, Alberta, Canada, on April 12, 1920, the son of Methodist Reverend John Wilfred and Ethel Martha (Anderson) Greenwood. He was a graduate of Southern Methodist University and the University of Detroit Law School, where he served on the Bar Journal Staff. During World War II, he was a disputes officer for the Regional War Labor Board in Detroit. After the war he was the director of industrial relations and assistant secretary at a carburetor company and subsequently vice-president of an Iowa power company. While living in Iowa, he served on the Salvation Army Board of Directors. Following his retirement, he served as Executive in Residence and Adjunct Professor at the School of Business Administration of the University of Arkansas.
Perry had a sense of humor and a love for stories. At the end of his memoirs, he recounted a story by Gordon Hinckley. In 1988 terrible forest fires raged in Yellowstone Park. Six years later, "[t]he dead pines still stood, but between the burned trees new seedlings [sprang] from the ground. . . . There is a new generation of trees now, young and beautiful and filled with promise. The old trees eventually will fall and the new ones will grow tall to create a forest of great beauty and usefulness. As we drove through the park, I thought of the wonders of nature, of the rhythm of our lives. We grow old, and I am among those who have done so. Our vitality and our powers slacken. But a new generation is at our feet. . . . These too are sons and daughters of God whose time has come to take their place on earth. They are like the new growth in the park -- young, tender, sensitive, beautiful, and full of promise."
Survivors include his wife, Ruth of Fayetteville; five children: Fred Romo of Ozark, Patrick, Ann of Farmington, Mary, and Bruce; fourteen grandchildren, and eight great grand-children. Three of his grandchildren -- John Simmons of Springdale; Harold Simmons of Tempe, Ariz.; and Bethany Vaughan of Rogers -- have particularly close ties to Arkansas.
A memorial service (informal dress) will be held at 4 p.m. on Saturday, September 13, 2014, in the Convocation Room of Butterfield Trail Village in Fayetteville. The family requests memorials to Butterfield Trail Village or the Salvation Army in Fayetteville. Nelson-Berna Funeral Home and Crematory handled the cremation arrangements.
Published September 10, 2014
OBITUARY SUBMITTED BY:
Nelson-Berna Funeral Home and Crematory
4520 North Crossover Road, P.O. Box 8982, Fayetteville, AR
Phone: 479-521-5000
http://www.nelsonberna.com