Virginia Dykman
Fayetteville, AR, 1922 - 2014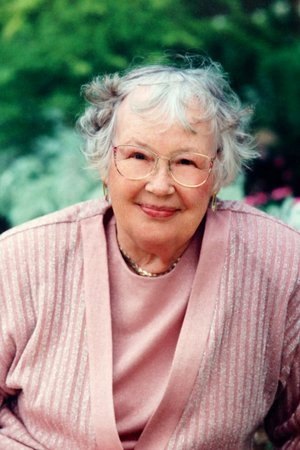 Virginia June Dykman, 92, of Fayetteville died Monday, September 08, 2014 at Willard Walker Hospice House in Fayetteville surrounded by her loving family. She was born January 30, 1922 in Pocatello, Idaho the daughter of Carla Myrtle Walden and Thomas Edwin Johnston. She was preceded in death by her parents and her sister, Dorothy Jane Johnston.
She was a homemaker in Little Rock, Arkansas until moving to St. Paul, Minnesota in 1975. There she worked for the St. Paul Housing Authority as a loan officer until she retired in Bella Vista, Arkansas in 1987. During retirement, she and her life partner Richard E. Simon enjoyed traveling and participating in activities at the Highlands Methodist Church and their community. She also enjoyed the symphony and other events at the Walton Arts Center.
Virginia is survived by four children: Richard A. Dykman of Naples, Florida; Susan J. Rountree, M.D. of Houston, Texas; Thomas Ross Dykman, M.D. of Fayetteville, Arkansas and Laura J. Hokett, D.V.M. of Fayetteville, Arkansas; seven grandchildren, two step-grandchildren, seven great-grandchildren and four step-great-grandchildren. Her family will remember her as a patient, kind and loving person who was curious and intellectually gifted with common sense.
A celebration of her life will be at Highlands Methodist Church in Bella Vista, Arkansas at 2 p.m. on Friday. Donations in lieu of flowers may be sent to Highlands Methodist Church, 371 Glasgow Rd., Bella Vista, Arkansas 72715 or Symphony of Northwest Arkansas, P.O. Box 1243, Fayetteville, Arkansas 72702. Arrangements by Epting Funeral Home of Fayetteville. Condolences: www.eptingfuneralhome.webs.com.
Published September 10, 2014
OBITUARY SUBMITTED BY:
Epting Funeral Home
709 N. Walton, Bentonville, AR
Find it at: corner of Walton and College
E-mail: eptingfuneralhome@inbox.com
Phone: 479-273-3443
http://www.eptingfuneralhome.webs.com/