Tommie B. Davis Sr
Pine Bluff, AR, 1921 - 2014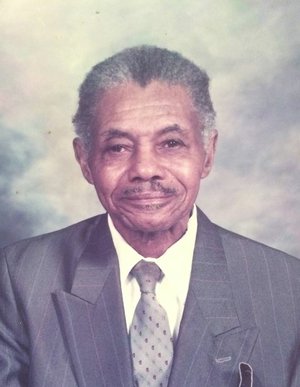 Mr. Tommie B. Davis Sr. 93 of Pine Bluff, Arkansas passed away on September 6, 2014. He was born June 27, 1921, in Parkdale, Arkansas (Ashley County), to the late Hosea and Emma V. Smith-Davis.
Tommie accepted Christ at an early age, becoming a member of Green Grove Missionary Baptist Church, with Rev. Junior as pastor. Later in life, he united with First Baptist Church Highland Park in Little Rock, Ark. under the leadership of Rev. Willis W. Walker Jr. Tommie served his country after being drafted into the United States Army during World War II.
He leaves to cherish his memory five sons; Theodis (Faye) Davis, Harold (Loretta) Davis, Tommie (Shelia) Davis Jr., Bobby Jeter, and Ricky Jeter, all of Pine Bluff, Ark.; four daughters, Carolyn Faye Davis-Parish (with whom he lived), Belinda Jeter-Adams, both of Pine Bluff, Ark., Lillie Pearl Davis of Milwaukee, WI and Brenda (Gerald) Byrd of Dumpfree, Va.; 40 grandchildren, 64 great-grandchildren, 26 great-great-grandchildren and many beloved nieces, nephews, cousins and friends.
Funeral Service will be 2:30 p.m. on Saturday, September 13, 2014 at First Trinity Church Of God In Christ in Pine Bluff. Burial will be in Forest Lawn Cemetery by Christian Way Funeral Home. Visitation will be today from 5-7 p.m. at Christian Way Funeral Home, Pine Bluff, Arkansas. The body will in state from 1:45 p.m. until time of service. Online register can be signed at www.christianwayfh.com.
Published September 12, 2014