Eleanor "Sugie" Lawrence Fortune
Newport, AR, 1928 - 2014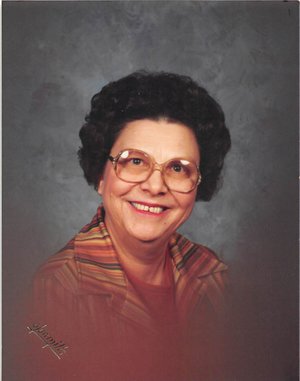 Eleanor "Sugie" Lawrence Fortune, 85, of Newport, departed this life on Sept. 18, 2014. She was born on Oct. 11, 1928 in Brinkley, Ark., to the late Eugene W. Lawrence and Venice Patchell Lawrence. Her father gave her the nickname "Sugie" when she was a little girl and that was the name everyone knew her by all her life.
She was preceded in death by her father, Eugene W. Lawrence; her mother, Venice Patchell Lawrence Clift; her husband of 54 years, Bobby Fortune; her half-sister, Thelma Lawrence Schmelzla; and her sister, Nancy Lawrence Benish.
She is survived by her son and daughter-in-law, Mike and Melody Fortune; her daughter and son-in-law, Karen and Junior Cathey, all of Newport; and her sister, Elizabeth Lawrence Pace and husband, Don of Virginia. She was blessed with three grandchildren, Jason Cathey and wife Brindy of Little Rock, Tony Fortune and wife, Lindsay of Dallas, Texas, and Shane Cathey of Little Rock; four great-grandchildren, Summer, Gage, Ainsley and Beckett Cathey of Little Rock; a special niece, Kathy Stegall Benish Cameron of Jonesboro; and a host of extended family and friends.
She loved music and singing. She took voice lessons as a child and had a beautiful voice. At the age of 10, she presented a "Program of Songs" on the campus of Hendrix College. As a teenager she was asked to come to California for an audition to perform in a musical, but her family was unable to send her. She sang in the church choir, wedding ceremonies, and performed in the local Service League Follies productions for several years. She also was a pianist.
Sugie grew up in Newport and graduated from Newport High School. She attended Hendrix College.
As a young adult, she was active in the Newport Service League, Jackson County Historical Society, BPW of Newport, and Newport Cub Scouts.
She worked as a telephone operator in Newport in the late 1940's and '50's, at the Village Twin Cinema from 1977-1987, and at Take-One Video from 1987-1992. She also worked at the Newport Montessori School and Under the Rainbow Pre-School.
She was an active member of the First United Methodist Church of Newport. She was a Sunday School teacher and kept the church nursery, having cared for several generations of children, until her illness in July of 2014.
She loved to read books and was an avid reader. She loved birds, always watching for golden finches and hummingbirds in her yard. She and her longtime friend, Katherine Gatlin, enjoyed riding around Newport looking for killdeer, scissortail flycatchers, the Yucca plants in bloom, and all of the flowering trees around town. She enjoyed listening to classical music and watching old movies.
Sugie's wishes were to be cremated and for her ashes to be placed on the plot next to her father's grave in Walnut Grove Cemetery, where her husband's ashes had been placed after his death.
Visitation will be 6-8 p.m., Sunday, Sept. 21 at Jackson's Newport Funeral Home. A memorial service will be held at the First United Methodist Church, 3rd & Laurel Streets, Newport, Monday, Sept. 22 at 2 p.m.
Memorials may be made to the W.A. Billingsley Memorial Library, 213 Walnut Street, Newport, Ark. 72112 or First United Methodist Church of Newport.
Arrangements: Jackson's Newport Funeral Home.
www.jacksonsfh.com.
Published September 21, 2014
OBITUARY SUBMITTED BY:
Jackson's Funeral Home
1900 Malcolm Avenue, Newport, AR
E-mail: khunt@jacksonsfh.com
Phone: 870-523-5822