Bobbie Kimball Buchman
of Little Rock, AR, 1921 - 2014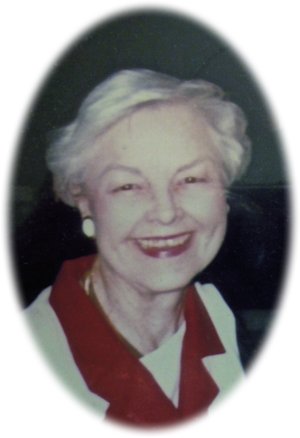 Bobbie Kimball Buchman, 93, of Little Rock went to be with the Lord on September 21, 2014. She was born February 15, 1921 to the late Rollin Hibbard Kimball and Robbie Blassingame Kimball.
Bobbie attended Brenau College for Women and graduated with a BS degree from the University of Georgia. She was a member of Alpha Delta Pi Sorority and served as treasurer and president.
Bobbie's volunteerism and ministry were inspirational to many. She was active in Bible Study Fellowship for over 20 years. She also served nine years as a volunteer for "Contact," a telephone counseling service for the troubled and hurting. She served as encourager in Partners of Patients, as a teacher in Each One Teach One, and as a volunteer for the local hospitals. Bobbie had a heart for unwed mothers, and she filled positions of president of Bethany Christian Services Auxiliary and Bible study leader for Florence Crittendon Home. She smocked gowns for the funeral services of premature babies and for adopted babies. Bobbie worked with Family Council; FLAG (Family, Life, America, God) and received their award; and was president for the Pulaski County Medical Society Auxiliary. She also gave her time to the Lord at Grace Church by serving on the Grounds, First Touch, and Prayer Committees and at Woodland Heights as co-leader in Bible studies.
Bobbie was preceded in death by her loving husband, Dr. Joseph A. Buchman. They were married for 55 years until his death in 1997. She was also preceded in death by her brother, Rollin Hibbard Kimball III. She is survived by two daughters: Roberta Amley (Rob) of St. Petersburg, Florida and Babs Steward (John) of Little Rock; one son, Dr. Joseph Buchman (Tricia) of Little Rock; one sister, Jean Kimball Daniel of Birmingham, Ala.; eight grandchildren: Kirsten Orr (Brian), Josie Pielop (Chris), Christopher, Ryan, and Wesley Buchman and Lindsay, Stephen, and David Steward; and four great-grandchildren.
A memorial service will be held at 1:30 p.m. Friday, September 26, 2014 at Grace Church, 12900 Cantrell Rd., Little Rock, AR 72223, (501) 225-0843. Private interment will be at Little Rock National Cemetery. Arrangements are with Roller-Chenal Funeral Home, 13801 Chenal Parkway, Little Rock, Ark. 72211, (501) 224-8300.
Memorials in Bobbie's name may be sent to Grace Church or to Bible Study Fellowship Global Headquarters, 19001 Huebner Road, San Antonio, Texas 78258, (210) 492-4676. Please sign her online guestbook at rollerfuneralhomes.com/chenal.
Published September 24, 2014
OBITUARY SUBMITTED BY:
Roller-Chenal Funeral Home
13801 Chenal Parkway, Little Rock, AR
Phone: 501-224-8300
http://www.rollerfuneralhomes.com/chenal