William Henry Woods Sr.
of Little Rock, AR, 1931 - 2014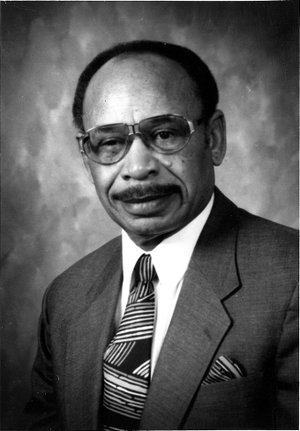 Dr. William Henry Woods, 83, of Little Rock, Arkansas passed away Thursday, September 18, 2014. He was born June 17, 1931 in Marion, Arkansas to Joe and Nancy Woods, as one of twin boys. He was preceded in death by wife of twenty-five (25) years, Mrs. Margaret Webb Woods.
He was raised in Marion, Ark. and is a product of Marion Public Schools where he graduated from Phelix High School in 1950. When he graduated high school, he and his twin brother headed for Little Rock to attend Philander Smith College. He received a B.S. Degree from Philander Smith College in 1954, a M.S. Degree from Atlanta University in 1957, and Ph.D. in Zoology from the University of Arkansas at Fayetteville in 1973.
Dr. Woods was the first black graduate student to be admitted to the graduate program in Anatomy at the University of Arkansas for Medical Sciences (UAMS) and the first to receive a Ph.D in Zoology at the University of Arkansas at Fayetteville. He was also the first black professor in the School of Arts and Sciences of the University. Once Dr. Woods completed his educational training, he returned to Philander Smith College where he joined the college faculty as a full-time member. He served at Philander Smith for upwards of 40 years and only recently retired as full time faculty in 2012.
Dr. Woods was also the owner of Uncle T's Food Mart located on the corner of Martin Luther King Jr. and Daisy Bates Dr. in Little Rock. Because of the early exposure to the food retail business through a store owned by his uncle and aunt in Sunset, Ark., the family felt a deep conviction to invest in such a business in Little Rock. In the late 1960's, his late brother Willie and his late wife Margaret purchased what was then named Braswell's Mini Market. A new facility was later constructed in the mid 1970's and renamed Uncle T's in honor and memory of the one who started it all, Uncle Tillman Green.
He was a proud and dedicated member of Canaan Missionary Baptist Church for over 40 years and was a member of the June Club and served faithfully on the Board of Trustees for many years until his death.
Dr. Woods will be deeply missed by his children, William H. Woods Jr., Ronald B. Woods, Sr. (Freda), and Dr. Jerrye A. Woods; grandchildren, Ronald B. Woods Jr., Margaret N. Woods, and Nicholas J. Woods; sister-in-law, Milgret J. Woods; one aunt, Lillian Hatch of Chicago, Ill.; two nephews, Clifford Hawkins of Little Rock and Charles Hawkins of Atlanta, Ga.; two nieces, Rosie L. Freeman (Lee) and Gloria Ann Robinson of Milwaukee, WI; cousins Jean Brown of Marion, Ark., John Hatch of Berkeley, CA, and Bill Hatch (Shirley) of Chicago, IL; and several great nephews, great nieces, cousins, and a host of friends, colleagues, and former students.
Family Hour will be Friday, September 26, 2014, 6:30-8 p.m., at Canaan Missionary Baptist Church, 1700 State Street, Little Rock, Ark. Home Going Services will be Saturday, September 27, 2014, 11 a.m., at the M.L. Harris Auditorium (Fine Arts Building) on the Campus of Philander Smith College, 900 W. Daisy Gatson Bates Dr., Little Rock, Ark. In lieu of flowers, donations can be made to: "Canaan Missionary Baptist Church Building Fund". Services entrusted to: Ruffin & Jarrett Funeral Home, 1200 South Chester St., Little Rock, Ark. 72202. (501) 372-1305.
Published September 24, 2014
OBITUARY SUBMITTED BY:
Ruffin & Jarrett Funeral Home
1200 Chester St., Little Rock, AR
Phone: 501-372-1305