Bettye McDonald Caldwell
of Little Rock, AR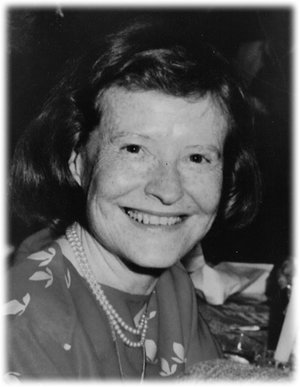 Bettye Caldwell died at her home in the early morning of Sunday, April 17, 2016 after an amazing life. Bettye has been an innovator, an educator and a researcher in the field of early child development. Persuaded by findings from her early research with the distinguished pediatrician, Dr. Julius B. Richmond of the needs young infants have for emotional and cognitive support during the first three years of life, she founded (1964) and directed the Children's Center, in Syracuse, New York the first enrichment program in America for infants and toddlers. The format chosen for offering enrichment was infant child care, a type of service unappreciated and anathematized at the time. The value of the work was strengthened by early findings from other contemporary labs conducting research on the importance of early enrichment for children from disadvantaged family settings. Buttressed by early findings from these landmark studies and by the increased social acceptability of early enrichment emanating from programs such as Head Start, the approach was almost a mainstream idea" in America within a decade. After moving to Little Rock Arkansas in 1969, Dr. Caldwell's vision was to bring day care—still a pariah—into the field of early childhood education and even more importantly, into public education. She coupled this determination with the conviction that early childhood programs should be recognized as a regular and vital part of a child's "school experience" and not be relegated to a now-quite-legitimate realm called "preschool". Adding these two concerns to her conviction that enrichment had to begin in infancy, Dr. Caldwell designed and obtained grant support for a comprehensive education/child care early/elementary school complex (Kramer School, a regular public school in the Little Rock School District). With her usual good luck she met the superintendent of schools who indicated a desire to have an early childhood program. By this time Bettye was no stranger to applying for and receiving large grants. As a developmental psychologist, Bettye was always focused on valid research outcomes and early enrichment has become a standard parenting and instructional practice. There was always a long waiting list for the "baby house" at Kramer and parents were involved in every possible way. Bettye considered the Kramer Project the most significant thing she ever did; indeed, she thought and still thinks that all elementary schools should follow the Kramer model. She has spoken about her work in all 50 states and many foreign countries, has published over 300 articles and edited several books. Once a speaker introducing Bettye commented that he thought that Bettye's greatest achievement was heading the fight for quality day care. In the project Bettye was helped by a high-quality staff most notably Dr. Alice Honig. Bettye is a Past-President of the National Association for the Education of Young Children, is a member of the Laureate Chapter of Kappa Delta Pi (an elite group limited to 60 living educators). She is former editor of Child Development and is a recipient of the Award for Distinguished contributions to Public Policy for Children from the Society for Research in Child Development. Also she is one of the original Principal Investigators of the National Institute of Child Health and Human Development Study of Child Care and Youth Development. She is the major developer (with Dr. Robert Bradley) of the HOME Inventory, a research instrument which measures the quality of the home environment and its ability to support the development of children. The HOME has been translated into many languages and is in use all over the globe. Deeply convinced of the validity of combining education and child care, Bettye had advocated (without much success) re-labeling the field as "Educare". Bettye was very active in her Little Rock community serving on the board of First Commercial (Regions) and a founding member of Arkansas Advocates for Children and Families. Many may remember she served on in the development team for Mattel Toys and did several commercials that were viewed nationally. Bettye Ruth McDonald was born on Christmas Eve in the small town of Smithville, Texas where she grew up.
Bettye was married for 58 years to her college sweetheart, Dr. Fred T. Caldwell who passed away in 2004. She has two children, (a daughter, Elizabeth Lawson living in Idaho and a son, Paul F. Caldwell living just a block from her) and two glorious granddaughters, Rebecca Ray and Rachel Caldwell. She is also survived by her older sister, Mildred (Elaine) Carpenter, nephews, Larry Carpenter and his wife Beth and Thomas Carpenter and his wife Kay, the sons of Thomas and Kay Carpenter Matthew Carpenter and Mark Carpenter are also survivors of Bettye.
There was just little that Bettye could not do. She made most of the beautiful clothes she wore, she was a gourmet cook, and she sang with the Arkansas Choral Society and absolutely loved gardening. She loved to sing and knew the words to hundreds of songs and hymns. Bettye so enjoyed having guests to her home overlooking the Arkansas River and proudly displaying her large cactus garden. This last year has been especially challenging for Bettye who has struggled with health problems. She found much stimulation and comfort in her discovery of First United Methodist Church and its wonderful Bowen Cabe Sunday School Class. After attending the church for 5 or 6 years she took the final step and became a member. She has tried to be a good member of her church and participated to the limit of her abilities. Her search for a religious home ended at First United Methodist.
A memorial service for Bettye will be held at 10 a.m. on Monday April 25, 2016 at First United Methodist Church in Little Rock, Arkansas. The family does not have enough words to thank her trusted caregiver Kay Mummerlyn and Bettye's best friend Donna Davis for their faithful care and love during this difficult ending time. Donations should be directed to her numerous scholarships at the following universities; The University of Arkansas at Little Rock, Baylor University, Washington University. She will be truly missed by hundreds of people and thousands who were impacted by her research and her work.
Arrangements by Roller-Chenal Funeral Home, 13801 Chenal Parkway, Little Rock, Arkansas 72211, (501) 224-8300. Online guestbook: www.rollerfuneralhhomes.com/chenal.
Published April 21, 2016
OBITUARY SUBMITTED BY:
Roller-Chenal Funeral Home
13801 Chenal Parkway, Little Rock, AR
Phone: 501-224-8300
http://www.rollerfuneralhomes.com/chenal