Lois Hankins
Conway, AR, 1931 - 2016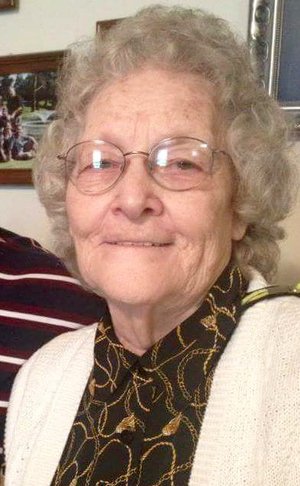 Lois Emerson McDaniel Hankins was born to Archie and Ora Emerson on September 10, 1931, in Alread,
Ark., and left to live with her Lord and Savior on Wednesday, January 6, 2016. After completing her education in the Alread schools, Lois entered the business world and was privileged to have employment in various fields. Her final work place was Kimberly-Clark of Conway from which she retired early due to being physically disabled.
On February 22, 1964, Lois married Oather Hankins in her parents' home. From the beginning, the couple was dedicated to rearing and guiding their four children on biblical principles and sharing Christ's love for them. For almost 52 years, Lois and Oather were a team and Lois's love for the various generations of her family was paramount in her life. That love was returned to her many-fold and she will be greatly missed. In Lois's retirement years, she grew to enjoy staying in touch with friends and family on Facebook and by texting. She and Oather also rooted for the St. Louis Cardinals and Arkansas Razorbacks by watching their games on TV. Most of all, Lois was a prayer warrior every day.
Lois is predeceased by her parents, her siblings: Alvie Emerson, Laverne McDonald, Syble Berry and Bill Emerson, son-in-law, Tony Kingston, one grandchild and one great-grandchild. In addition to her husband, Lois is survived by siblings: Leon, Bryce, Wayland and Dormet Emerson; children: James McDaniel, Gene (Gwen) Hankins, Vickie Kingston, and Teresa (Russell) Wilson; grandchildren: Ben McDaniel, Rik (Fauna) Hankins, Cathy Hankins, Alina (Kris) Cox, Brian (Erin) Kingston, Alicia Kingston, Chris Kingston, Kyle Rega, Allison (Eric) Garner, Bethany Grissom and Chris Wilson; great-grandchildren: Kylie Cox, Kacen Cox, Mataya Kingston, Victoria Kingston, Nanette Kingston, Zebediah Kingston, William Kingston, Sierra Ast, Kyoko Mills, T.J. Turner, Olivia Garner, Owen Garner, and Jett Grissom, as well as numerous nieces and nephews.
Lois was a proud member of Antioch Baptist Church in Conway whose home-bound ministry was a great
blessing to her. Special thanks to Antioch's ministry team for their faithful visitation and stewardship.
Funeral service will be Saturday, January 09, 2016 at 10 a.m. in the Chapel of Roller-McNutt Funeral Home in Conway. Visitation will be one hour prior to the service at 9 a.m. Interment will occur at Pleasant Valley Cemetery in Wooster, Ark. Online guestbook at www.rollerfuneralhomes.com.
Published January 8, 2016
OBITUARY SUBMITTED BY:
Roller-McNutt / Conway
8th and Vine, P.O. Box 249, Conway, AR
Phone: 501-374-2731