Hayes C. McClerkin
Texarkana, AR, 1931 - 2016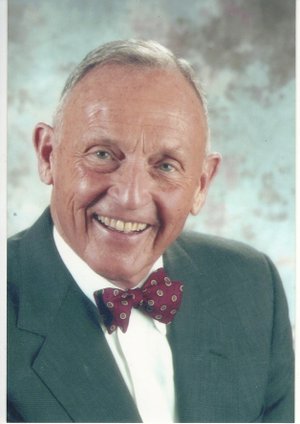 Hayes C. McClerkin, beloved husband, father, grandfather, great-grandfather and friend passed away peacefully at home with his family at his side on Wednesday, January 6, 2016. He was born in Texarkana, Arkansas on December 16, 1931 to Hayes C. McClerkin Sr. and Orlean Maloney McClerkin.
He is survived by his wife of 57 years, Lillian Riggs McClerkin, daughters Martha McClerkin and husband Mike Bryan of Richmond, Virginia; Katherine McClerkin of Phoenix, Arizona and Lauren McClerkin of Chapel Hill, North Carolina, his grandchildren Carly, Haysen and Zak Gilleland; Allen, Chrissy and Olivia Edwards; Watson, Dylan, Gaston, Madison and Lillian Fitts, and great grandchildren Cadyn Gilleland and Myla Edwards. Additionally, he is survived by Camilla Brasier Fd. Dahl of Sweden.
Hayes graduated from Texarkana, Arkansas High School in 1949, where he played on the football team, was an Eagle Scout and a member of Delta Sigma social fraternity. He attended Washington and Lee University in Lexington, Virginia, was a member of Beta Theta Pi fraternity and graduated with a B.S. degree with special attainments in Commerce in 1953. He then entered the U.S. Navy, and became the Navigator on the U.S.S. Chilton, an attack transport ship, where he served a substantial amount of time in the Mediterranean, and attained the rank of Lieutenant. He then received an Honorable Discharge in 1956.
Hayes enrolled in the University of Arkansas Law School in Fayetteville, Arkansas where he served as Business Manager of the Arkansas Law Review and was a member of Delta Theta Phi law fraternity. He also became President of Blue Key National Honor Society. Hayes and Lillian Riggs married the summer before his last year in law school and he then earned his L.L.B. in 1959, passed the Bar Exam and received his license to practice law.
Hayes and his law school classmate, John Stroud returned to Texarkana and began a law partnership. They later joined their practice with that of Alex G. Sanderson, Jr. and Willis B. Smith, forming the firm of Smith, Sanderson, Stroud and McClerkin …setting the stage for a long and accomplished career. Hayes was admitted to practice in both Arkansas and Texas, as well as before the U.S. Supreme Court; the U.S. Court of Appeals, Fifth and Eighth Circuits; and the U.S. District Courts for both the Eastern and Western District of Texas and the Western District of Arkansas. In his practice of law, he developed an interest in the oil and gas industry, representing many oil companies over the years, and served on the Arkansas Oil and Gas Commission from 1979 to 1983. He also was an Adjunct Faculty and Lecturer in Oil and Gas Law at the University of Arkansas at Little Rock School of Law from 1980 through1983.
Through the years Hayes became active in politics and ultimately served in the State Legislature from 1960 to 1970. He also served as the Speaker of the House during the 1969-1970 term, at that time being recognized as the youngest Speaker for the House. After an unsuccessful bid for the Democratic nomination for Governor in 1970, he often credited his good friend, the late Dale Bumpers, with a precious gift by sending him back to his hometown and the family and law practice he loved.
He was active in many state-wide and out of state activities. The longest and fondest commitment was his service to Arkansas Blue Cross Blue Shield Board, where he served from 1985 until the present, Chairman of the Board from 2004-2011 and Chairman of the Executive Committee from 2004-2011. Hayes also served as Trustee Emeritus of Randolph-Macon Woman's College, Arkansas Community Foundation, Inc., Arkansas Cancer Research Center Foundation and Director of Arkansas Alumni Association, Vice Chairman, Economic Development of Arkansas Fund Commission 1996-2002, and Legislative Liaison to Governor Jim Guy Tucker from 1993-1995.
Hayes was active and devoted to his church and his profession. As a member of First Presbyterian Church, he taught Sunday School, was an usher and also a Deacon and Elder. He was a member of the Arkansas Bar Association, the American Bar Association and a Fellow of the American Bar Foundation.
Consistently, he was a leader in all of his endeavors. He had been President of the Texarkana Chamber of Commerce, President of Texarkana Regional Arts and Humanities Council, President of Texarkana Country Club, Chairman of the Texarkana, Arkansas Civil Service Commission from 1992 until the present. Since 1994, after his retirement from his law practice, he became the owner of Miller County Abstract Co.
He received many honors but to mention a few, he received the C.E. Palmer Award for Outstanding Civic Achievement from the Texarkana Chamber of Commerce in 1990, was named a Distinguished Alumnus of the University of Arkansas Law School, a Distinguished Alumnus Award from Texarkana, Arkansas High School and received a Distinguished Eagle Scout Award from Boy Scouts of America.
Above all the accomplishments and service for which Hayes was recognized, he was most proud of his relationships with his friends and especially his family. He maintained contact with most everyone he knew by sending a "Thought for the Day" for inspiration which were compiled and published as a book entitled "Shortcuts to Life's Secrets". Many of the recipients of his "Thoughts" were friends he collected over 30 years while spending time at his favorite retreat, Rancho La Puerta, or "The Ranch." Hayes and Lil also hosted their entire offspring for a week or two for the past thirty consecutive years at Kiawah Island, SC, cultivating an indelible four-generation family bond. To them, he will always be "Daddy Hayes".
In lieu of flowers, memorial contributions may be made to First Presbyterian Church, 516 Pecan Street, Texarkana, Arkansas 71854; Opportunities, Inc., 6101 North State Line, Texarkana, Texas 75503 or Dierksen Hospice, 6500 North Summerhill Road, Suite 2B, Texarkana, Texas 75503.
The family will receive visitors at Texarkana Funeral Home 4801 Loop 245 Texarkana, AR 71854 from 4-6 p.m. Monday, January 11. Hayes will be laid to rest at Hillcrest Memorial Park 5101 W 7th St., Texarkana, Texas 75501 at 1 p.m. Tuesday January 12 officiated by Diane Brown with military honors. His grandchildren will be pallbearers.
A Memorial Service will be held at 2 p.m. at First Presbyterian Church, 516 Pecan St., Texarkana, Ark. 71854 on Tuesday, January 12th officiated by John and Susan Arnold.
Published January 9, 2016