Elaine Ann Geselschap
Bella Vista, AR, 1924 - 2016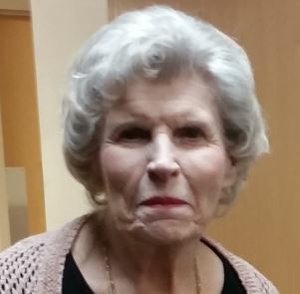 Elaine Ann Geselschap, 91, of Bella Vista, Arkansas passed January 16, 2016 at 11 a.m. She was born to Katherine Oliver and John Empkey in Omaha, Nebraska, August 27, 1924. She married Thomas Geselschap December 28, 1972.
She was preceded in death by a daughter, Karen Ann Ferguson (Jerry). Elaine is survived by her loving husband of 43 years, Thomas F. Geselschap; daughter, Kathryn Carlson of Bradenton, Florida; son, Coe Carlson, also of Bradenton, Florida; step-son, Mark A. Geselschap of Omaha, Nebraska; and sister, Jean Ryan (Curt) of Tucson, Arizona. Also surviving are five grandchildren; Eric Ferguson (Lan) of Champaign, Illinois, Joel Ferguson, Shannon Gentry (Scottie), Ryan Ferguson (Kellie), Katy Ferguson (Phil Spangler) all of Peoria, Illinois; and six great-grandchildren.
Elaine retired from General Motors as a customer service representative with 29 1/2 years. After retiring, Elaine and Tom moved to Bella Vista. Elaine was active in a number of ministries at Bella Vista Baptist Church. She loved to travel and visit her family in Florida and grandchildren in Illinois. Elaine traveled on trips to Alaska, Branson, Arizona and California too.
She also enjoyed boating with her husband and friends on Lake Loch Loman. Elaine would enjoy reading her book, while Tom would cast out his fishing lines. In recent years Elaine enjoyed her church friendships, reading and watching movies.
Visitation will be 4-7 p.m., Thursday, January 21, 2016 at the Bella Vista Funeral Home, 2258 Forest Hills Blvd., Bella Vista, Ark. A funeral service will be held at Bella Vista Baptist Church on, Friday, January 22, 2016 at 10:30 a.m. Rev. Michael McCauley will officiate. Interment will be at 11 a.m., Monday, January 25, 2016 at Forest Lawn Cemetery of Omaha, Nebraska.
Memorials may be made to Bella Vista Baptist Church, 50 E. Lancashire Blvd, Bella Vista, Ark. 72714. Arrangements are entrusted to Bella Vista Funeral Home & Crematory. On-line condolences may be made at www.funeralmation.com.
The Elaine Geselschap family would like to thank the Circle of Life doctors, nurses and support staff for their compassion and generous support during Elaine's hospice stay.
Published January 20, 2016
OBITUARY SUBMITTED BY:
Bella Vista Funeral Home and Crematory
2258 Forest Hills Blvd, Bella Vista, AR
E-mail: office@funeralmation.com
Phone: 479-855-1611