Jean Ann Morris
of Little Rock, AR, 1932 - 2016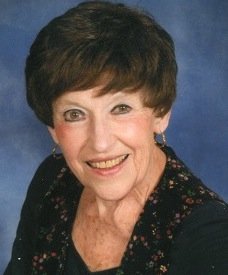 Jean Ann Morris, 83, of Little Rock, passed away January 14, 2016. Born in Little Rock, Ark., March 13, 1932, Jean Ann graduated from Central High School in Little Rock, Ark., where she was President of DAD (Delta Alpha Delta) Sorority. She attended Sweetbriar College in Sweetbriar, Va., and received a B.A. in Zoology from Washington University in St. Louis, where she was President of MO Beta Chapter of Pi Beta Phi Sorority and The Modern Dance Club. She received an M.S. in Zoology (Histology and Bacteriology) from Texas Tech University. While there, she was a graduate counselor and established the Texas Gamma Chapter of Pi Beta Phi Sorority.
Prior to marriage in 1954 to Bob Morris she worked at the Little Rock Health Department. They served two years in the Air Force where she worked at University of Nebraska Medical School Serology and Bacteriology Lab. Following their return to Keo, Arkansas they were engaged in farming and she was office manager and bookkeeper for Morris Farms & Gin Company.
She was a dance instructor (ballet and jazz) and performer at McAfee Ballet School for 38 years. Jean Ann also taught ballet at Joel's House of Dance for 24 years and Little Rock School of Dance for 33 years to present. She also was the choreographer of musicals at Little Rock Catholic High School/ St. Mary's in the late 1980s, in addition to serving as Vice President and Board Member of The Southern Association of Dance Masters. Jean Ann also was self-employed, operating Jean's Catering for 25 years.
Mrs. Morris served as the President of Country Homes Garden Club, a member of the Symphony Designer House staff, Director of the Lonoke County March of Dimes, where she was named the 1961 "Mother of the Year." Mrs. Morris worked at Tipton-Hurst Florist as a Gift Sales Associate for 28 years.
She was an active member of the Little Rock Second Presbyterian Church, where she was a choir member, a former deacon, committee member to organize first church pictorial directory and Celtic Cross cover, choreographer of youth musicals and co-director of the Christmas Living Nativity with Lorene McAffee Paterson and numerous performances of liturgical dance.
She was preceded in death by her parents, Dr. Carl and Mildred Rosenbaum; her husband of 55 years, Robert (Bob) Morris; and a daughter, Lisa Ann Morris. She is survived by three sons, Michael W. Morris (Martha) of Little Rock, Steven R. Morris (Cindy) of Flower Mound, Texas, and Bruce A. Morris of Ft. Worth, Texas; five grandchildren, Lauren M. Doucet (Lee), Matthew W. Morris, Zachary M. Morris, Emily R. Morris and Eric R. Morris; two great-grandchildren, Tyler M. Doucet and Emily C. Doucet; two brothers, Carl S. Rosenbaum (Martha) of Little Rock and Charles A. Rosenbaum (Shirley) of Fox, Arkansas; a sister-in-law, Jean (Sissy) Long (William) of Memphis, Tenn.; and numerous nieces and nephews.
A special thanks to Dr. Lawrence Mendelsohn, staff, nurses and techs for eight special years of loving care. Services will be held on Saturday, January 23 at 10:30 a.m. at Second Presbyterian Church. In lieu of flowers, memorials may be made to the Second Presbyterian Church Adult Choir, Catholic High School for Boys, CARTI Foundation, Arkansas Children's Hospital or charity of your choice.
Micah 6:8 And what does the Lord require of you? To act justly and to love mercy and to walk humbly with your God.
Arrangements by Little Rock Funeral Home, 8801 Knoedl Ct., (501) 224-2200. Mrs. Morris' online guestbook may be signed at www.littlerockfuneralhome.com.
Published January 20, 2016
OBITUARY SUBMITTED BY:
Little Rock Funeral Home
8801 Knoedl Ct., Little Rock, AR
Phone: 501-224-2200