Lorine Mary Taldo
Springdale, AR, 1928 - 2016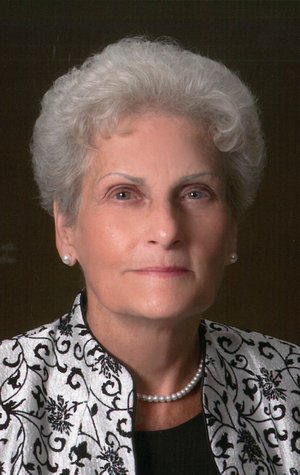 Lorine Mary Taldo, 87 of Springdale passed away Monday, January 18, 2016 at Circle of Life Hospice in Springdale. She was born January 24, 1928 in Tontitown, Arkansas to Silvio and Emelia Taldo Pianalto. Lorine married Fredie Taldo October 6, 1948 at Saint Joseph's in Tontitown. She had been working at Fayetteville City Hospital as a teenager and Fredie was home from the war, good looking and had a hot car. You know the rest.
She spent most of the next 20 years on a small farm south of town, raising 4 kids, cooking, canning, washing and ironing, and tying and picking grapes in the family vineyard. She ventured out of the house in the late 60's to wait tables at the Venesian Inn where she sharpened her skills at joke telling, a skill she maintained throughout her life. She loved the shock value in the off color jokes she would tell.
Lorine served as Tontitown's "First Lady" as Fredie served as Mayor for 13 years. She loved bright clothing, red lipstick, Dean Martin music and dancing. Most of all, she loved being "Nona" to her grandchildren and great-grands.
She was preceded in death by her parents, her husband Fredie Taldo; Sister, Rosalie Sabatini; brother, Harvey Pianalto; brother, Henry Pianalto; brother, Albert Pianalto. Survivors include three sons, Philip Taldo and wife Mary Ann of Springdale, Kenneth Taldo and wife Jan of Tontitown, and Curtis Taldo of Springdale; one daughter, Marilyn Taldo-Coffman of Springdale; two brothers, Richard Pianalto and wife Antoinette of Springdale and Bobby Pianalto and wife Ruth of Tontitown; three sisters, Florence Whinnery of California, Helen McGinnis of Springdale and Pauline Weathers of Springdale; her sister-in-law, Ocie Pianalto of California; grandchildren: Sarah Brothers and husband Zach, Amelia Williams and husband Walt, Megan McAfee and husband Jared, Christopher Taldo and wife Undine, Lauren Guthrie and husband Jason, Jacqueline Coffman, Nathaniel Coffman, Erica Marz, Elisha Taldo and Emarie Taldo; great grandchildren: Cole Brothers, Ashlyn Brothers, Bo Simpson, Cale Simpson, John Ross Williams, Olivia McAfee, Sofia McAfee, Cecilia McAfee, William Guthrie.
Mass of Christian Burial will be Thursday, January 21, 2016 at 10 a.m. at St. Joseph Catholic Church in Tontitown with Rev. Greg Hart officiating. Burial will follow in St. Joseph Cemetery in Tontitown. Visitation will be Wednesday, January 20, 2016 from 5:30 to 7 p.m. at St. Joseph Catholic Church in Tontitown with Rosary following. In lieu of flowers donations may be made to the Circle of Life Hospice, 901 Jones Road, Springdale Ark. 72762. Online condolences may be left at www.siscofuneral.com.
Published January 20, 2016
OBITUARY SUBMITTED BY:
Sisco Funeral Chapel
705 W. Meadow St., Springdale, AR
Phone: 479-751-4577
http://www.siscofuneral.com