Frances Louise Tipton
Carlisle, AR, 1926 - 2016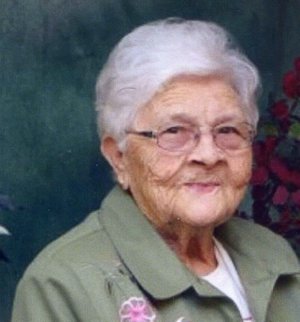 On January 20, 2016, Frances Louise Tipton, age 89, of Snake Island, took the hand of Jesus and He lead her through the Gates of Pearl to her eternal home full of rewards for the deeds completed in this world.
On March 31, 1926, Flora and Arnold Bronson were blessed with this child while living in Almyra, Arkansas. On January 31, 1941, Louise married the love of her life, Mutt Tipton and the following year they began their family which she loved with all of her heart. Her first son, Billy Don Tipton only lived 2 years. She is now rocking him in her arms.
Those who were waiting on her in Heaven were her parents; husband, Mutt Tipton, son, Don Tipton; a grandson, Gene Tipton, a granddaughter, Tiffany O'Dell; two brothers, Robert and Lawrence Bronson; sisters, Elsie Tipton, Beatrice Smith, Margaret Horton, Anna Bell Keaton, and one son-in-law, Marcus Isbell. Those left here on Earth to try to live up to her legacy are one son, Larry (Kaye) Tipton, of Carlisle, Linda Isbell, of Carlisle, Barbara (Ray) Lyons, of Judsonia, Carolyn (Lee) Vent, of Clarendon, Peggy (Jack) Williams, of England, Treata (Deariel) Vance, of Little Rock, and Millie (Darrell) Strickland, of Carlisle.
Louise loved to watch things grow. She loved to watch the crops on the family farm grow as well as the garden and house plants, and she always looked forward to a shipment of baby chicks each spring. Most of all she loved to watch her children grow as well as her eighteen grandchildren, thirty one great-grandchildren and six great-great-grandchildren.
A celebration of her life will be held 2 p.m. Saturday, January 23, 2016 at Landmark Baptist Church by Brother David Inzer. Visitation will be held one hour prior to the service. Pallbearers will be her grandsons, Randy Lyons, Tim Vent, Jeff Vent, Jackie Williams, Terry Lyons, Rickey Tipton. Online guestbook: www.rollerfuneralhomes.com/england.
Published January 22, 2016
OBITUARY SUBMITTED BY:
Roller-England Funeral Home
202 Stuttgart Highway, P.O. Box 97, England, AR
Phone: 501-842-3939