Alfred E. Smith
Bella Vista , AR, 1930 - 2016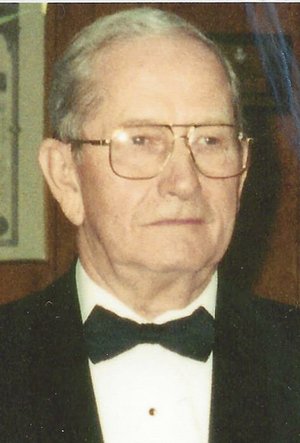 Alfred E. Smith, 85, of Bella Vista, Ark., formerly of Bernard, and Marion, Iowa passed away on Jan. 20, 2016 in Arkansas.
Funeral mass will be at 12 p.m., Tuesday, Jan. 26 at St. Patrick Catholic Church, Garryowen with Rev. Douglas Loecke officiating, Msgr. John McClean, and Msgr. Wayne Ressler con-celebrating and Fr. David Ambrosy as homilist. Burial will follow in the church cemetery. A rosary will be recited at 10:45 a.m., and visitation will begin after 11 a.m., Tuesday at the church until time of mass. The Leonard Funeral Home & Crematory, 2595 Rockdale Road, Dubuque, Iowa is in charge of arrangements.
Al was born on Oct. 24, 1930 in Otter Creek, Iowa, the son of Edward and Bridget (Curtis) Smith. He served in the U.S. Navy and was a member of the Navy Choir.
In 1953, he married Marjorie Adams at Saint John the Baptist Catholic Church in Savanna, Ill. Al worked as a railroad locomotive engineer and supervisor for 44 years with the Milwaukee Road and later the CP Rail.
Alfred was a very active member of the Knights of Columbus both in Marion, Iowa and later in Bella Vista. He served as Grand Knight, Treasure, Faithful Navigator, and District Deputy. He was named Sir Knight in 2004 and again in 2010 of the Pope John Paul I Assembly 1783. He was also active in the fund raising efforts of the K C's, raising funds for the orphans and widows of fallen Police and Fire Fighters at Ground Zero. He also raised funds for Special Olympics through golf tournaments and other events.
In retirement, he and Marjorie loved to travel in the US and Europe. Trips to Alaska and Ireland, traveling on trains through Europe and crossing the English Chanel by the new Chunnel Train were some of their many adventures.
Al also had a great love for Music, Golfing and fishing; he enjoyed Morel hunting and watching Notre Dame Sports and the Chicago White Sox.
He is survived by his Wife, Marjorie; a son, Alfred P. (Joan) Smith of Roselle, Ill.; a grandson, Nicholas (Maryem) Smith of Waterloo, Ill.; a sister, Agnes (Jack) Hinz of Maquoketa, Iowa; a brother-in-law, Walter Ihrig of Emeline, Iowa; his three grand pets, Santa Anna, Addy, and MR Spock; and his best friend, Frank Krug.
He was preceded in death by his parents; a granddaughter, Stephanie Jo Smith; and three sisters: Caroline Kampas, Monica Ihrig, and Patricia Wallace.
Memorials may be given to the Arkansas Special Olympics.
Published January 25, 2016