Beverly "BeeBee" Paul Brewer
Dunedi, FL, 1940 - 2016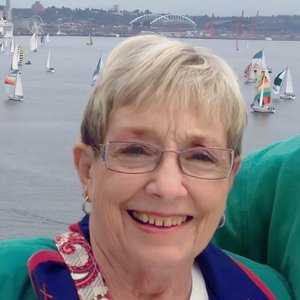 Beverly "BeeBee" Paul Brewer, 75 of Dunedin left this earth going into the Hands of God Jan. 26. It was a peaceful passing with family and friends at her side. She was born in Camden, Ark. on April 15 1940, participated in the Girls State leadership program, graduated high school from El Dorado, Ark. in 1958, attended Centenary College in Shreveport, La., a member of Zeta Tau Alpha, and graduated University of Arkansas in Little Rock in 1975 with a BA in the Performing Arts.
She was an accomplished actor and director of Community Theater in Little Rock, played various roles in many productions in upper Pinellas County, taught acting classes at Ruth Eckerd Hall, and directed the Good Shepherd Players at her Church in Dunedin, where she was a parishioner for over 31 years. She was president of Valor Marketing Inc. for the last 24 years, and also served on many community and charitable organizations.
She and Tom, her husband of 41 years, enjoyed traveling internationally and boating on their personal craft. As active members of the Clearwater Yacht Club, Beverly and Tom helped organize the Blessing of the Fleet and the UPARC Fun Day.
Known as "The Pink Lady" and also as "Pud" to her childhood friends, she lit up the room of social events with her smile and bubbly personality. Three of her most favorite things were playful pets, smiling babies and a good strong cocktail.
Beverly was preceded in death by her parents, Harvey E. Paul II and Bonita Paul; Sister, Patricia Paul; and son Larry A. Waschka Jr. She is survived by husband, John Thomas; brothers Harvey E. Paul III (Suzie) and Joseph Paul (Gail); son Paul E. Waschka; step son, R. Christion Brewer (Denise); granddaughter Kaitlin (Jeremy) McDuffie; great grandson, John Malcolm McDuffie, and nieces and nephews.
Services will be held at the Episcopal Church of the Good Shepherd; 639 Edgewater Drive, Dunedin, Fla. 34698. Afterward, a Celebration of Life will be held at the Clearwater Yacht Club; 830 South Bayway Blvd, Clearwater Beach.
With a strong faith in God, Beverly loved her Church. In lieu of flowers, donations can be made to the Episcopal Church of the Good Shepherd operating fund.
Beverly will be greatly missed by all who knew her. She was such a large personality in a small package. www.curlewhills.com.
Published January 31, 2016
OBITUARY SUBMITTED BY:
Memoriams.com
391 Inverness Parkway, Suite 300-B, Englewood, CO
E-mail: helpdesk@memoriams.com
Phone: 877-705-4995