Theodore Ted C. Hood
of Little Rock, AR, 1922 - 2016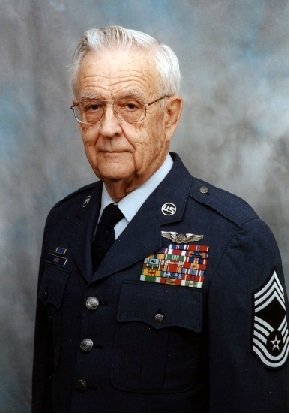 E N D OF M I S S I O N
THEODORE (TED) C. HOOD (CMSgt USAF Retired), 94, of Little Rock, passed away on Sept. 29, 2016.
He was born Sept. 12, 1922 on Ft. Sam Houston in San Antonio, Texas to Marion B. Hood (US Army retired) and Mary L. Hood. He was named after Theodore Roosevelt Jr., who was one of his father's commanders during his 31-year career in the U.S. Army. Following Ted's graduation from Thomas Jefferson High School in San Antonio, Texas he married Sarah E. Osborn of Crystal City, Texas on Aug. 21, 1942, also in San Antonio. The next month he enlisted in the United States Army Air Corps. He received extensive training prior to being deployed to Thurleigh, England, from where he flew 35 bombing missions over enemy territory as a top turret gunner and flight engineer on a B-17 named "Solid Sender" as a member of the Eighth Air Force, 306th Bombardment Group (H), also known as the "Grim Reaper" Squadron.
During his tour with the 306th Bomb Group in WWII, he received the Distinguished Flying Cross, four Air Medals, and the Purple Heart. Later in his career with the Air Force he would receive the Bronze Star, Meritorious Service Medal, Army Commendation Ribbon, Air Force Commendation Medal and 14 other awards and decorations from the United States Army, United States Air Force, the Republic of Vietnam, and recently the highest honor awarded by the French Government, the Legion of Honor medal, for his participation in the D-Day invasion and the liberation of France. The French medal was awarded to him on the deck of the USS Texas battleship, which is retired and docked in La Porte, Texas. The ceremony took place June 6, 2014, the 70th anniversary of the D-Day invasion.
He retired in 1973 with 31 years of service, which also included a tour in Vietnam in 1968-69. After returning from Vietnam, he was stationed at Little Rock A.F.B., where he completed his service. He was also stationed at Ft. Worth Army Air Field (later named Carswell A.F.B.) in Ft. Worth, Texas; Elmendorf A.F.B. in Anchorage, Alaska, and Clinton-Sherman A.F.B. in Burns Flat, Okla.; and had multiple temporary duty assignments. Following retirement he and his wife, and the two sons still at home, moved to Little Rock, where they have lived for over 40 years.
In 2002, Ted was chosen to serve on the WWII Memorial Committee at the University of Central Arkansas in Conway, and he donated his extensive collection of military records and numerous items of memorabilia from WWII to the U.C.A. archives.
He and his wife were members of Our Lady of Good Counsel parish and residents of Good Shepherd Retirement Community for the last 10 years. He is survived by his wife of 74 years, Sarah (Sallie) E. Hood of Little Rock; his daughter Geraldine (Gerry) Ganong of Little Rock; his son Theodore (Ted) C. Hood Jr. and his life partner, Dealia (Dee) Yancey, of Fairfield Bay; his son John B. Hood and his wife, Joyce Hood, of Shreveport, LA; his son Robert W. Hood and his wife, Rita Hood, of Marionville, MO; seven grandchildren and 14 great-grandchildren.
Rosary will be at Griffin-Leggett Funeral Home in Little Rock, Monday, October 3 at 6 p.m., with visitation to follow at 6:30 p.m. Funeral Mass will be held at Our Lady of Good Counsel in Little Rock on Tuesday, October 4 at 10 a.m. Interment with military honors will be at Arkansas Veterans' Cemetery in North Little Rock at noon.
In lieu of gifts or flowers, the family requests you make a memorial donation to the charity of your choice in the name of CMSgt Theodore C. Hood, USAF Retired.
Online guestbook is available at www.griffinleggetthealeyroth.com.
Published October 2, 2016
OBITUARY SUBMITTED BY:
Griffin Leggett Healey & Roth
5800 West 12th Street, Little Rock, AR
Phone: 501-661-9111