Jay Dickey
Pine Bluff, AR, 1939 - 2017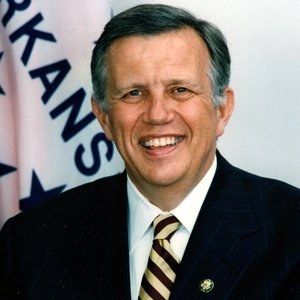 Jay Dickey, 77, former Arkansas Fourth District Congressman from died unexpectedly on Thursday, April 20, at JRMC in Pine Bluff from complications of Parkinson's Disease. He was born in Pine Bluff, Ark., on Dec. 14, 1939, to Jay and Margaret Rowell Dickey. He graduated from Pine Bluff High School (PBHS) in 1957, attended Hendrix College for one year, then the University of Arkansas at Fayetteville, obtaining a B.A. in 1961. He played for the Arkansas Razorbacks Basketball and Tennis teams, going on to coach the Razorback Tennis team while attending the U of A Law School, where he obtained his J.D. in 1963.
Jay began his legal career in private practice with his father, Jay Dickey Sr., and, like his father, served as Pine Bluff City Attorney, 1968-70. During the early years of racial integration, Dickey organized the "Affiliated Youth" for reconciliation between students at the segregated schools in Pine Bluff. He proudly served as huddle leader for Fellowship of Christian Athletics at PBHS. Although he had never held elective office, Jay ran for Congress in 1992, becoming the first Republican U. S. Representative for the Fourth District, serving from 1993 until 2001. During his eight years representing the people of south Arkansas he served on the House Committee on Appropriations, and five of its subcommittees: Agriculture, National Security, Energy and Water, Transportation and Labor, Health and Human Services, and Education. He was most proud of his work on the Dickey-Wicker Amendment, which prohibits the Department of Health and Human Services from using appropriated funds for the creation of human embryos for research purposes or for research in which human embryos are destroyed. He was also a lifetime member of the NRA and crafted an amendment to the House of Representatives appropriations bill that came to be known as the Dickey Amendment to prevent the CDC from gun violence research. Years later, however, with friend Dr. Mark Rosenberg of the CDC, Jay became a strong advocate for using scientific research to find ways to simultaneously protect the rights of law-abiding gun owners and attempt to prevent deaths and injuries from gun violence.
Jay is survived by his children: John Rowell Dickey (Betty Jo), Laura Dickey Campbell, Ted Dickey (Lila), Rachel Dickey Haithcoat (Jeff), and Cindy Pefferkorn McCormick; sister, Barbara Dickey McCain; and 11 grandchildren: Kathy Pefferkorn Hughes, Hannah Dickey, Grace Ann Dickey, Jonathan Dickey, Lydon Campbell, Edward Dickey, Elizabeth Dickey, Rachel Campbell, William Dickey, Miles Jay Haithcoat and Graham Haithcoat. He is also survived by his good friend and former wife, Betty Dickey.
The family especially thanks Betty Motes, who was his lifelong friend and frequent volunteer over the past few years. The family would love to hear any story you'd be willing to share about Jay. If so, please send them to eadickey@me.com. In lieu of flowers, the family requests memorials to Fellowship of Christian Athletes, Post Office Box 2414446, Little Rock, Ark. 72223, or Center Missionary Baptist Church, 60 Cole Rd, Rison, Ark. 71665.
The family will receive friends on Friday, April 28, from 5-8 p.m. at the Pine Bluff Country Club, 1100 West 46th, Pine Bluff. Funeral services will be Saturday, April 29, 10:30am at First Baptist Church, 6501 South Hazel, Pine Bluff, directed by Ralph Robinson & Son. Pallbearers will be his grandchildren. Interment will be in Ludington, Mich.
Online condolences: www.ralphrobinsonandson.com.
Published April 23, 2017
OBITUARY SUBMITTED BY:
Ralph Robinson & Son
807 South Cherry Street, P.O. Box 5254, Pine Bluff, AR
Phone: 870-534-3131