Ann Christina Haury Bell
Rogers, AR, 1925 - 2017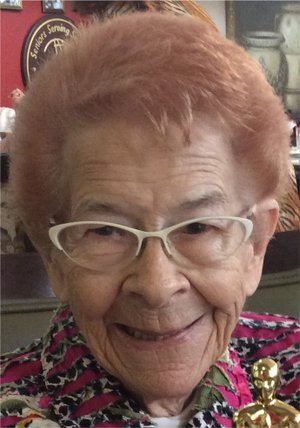 Born on 12 September 1925 in Helena, Arkansas, and raised in Little Rock, Ann Christina Haury Bell lived a long life and passed away at Circle of Life Hospice Home at Legacy Village early in the morning of 1 August 2017.
Ann was a strong, funny woman with a dry wit and the ability to face any struggle with grace and courage. She could find humor in almost anything and loved to talk about people in the news who did dumb things. She loved chocolate, spaghetti & meatballs, steak, vegetable soup, hamburgers, and sausage & cheese. She loved to shop and go out to lunch.
She lived through the Depression, World War II, Korea, Vietnam, and the more recent world conflicts, and never understood the concepts of hatred or discrimination. She worked for the railroad, the Air Force, and the psychiatry department of the VA Hospital in Albuquerque. She also lived in Germany, Denver, Memphis, and two places in Texas before returning to her home state of Arkansas.
Ann was preceded in death by her husband Howard Gilbert Bell, a World War II veteran who died in 1986, her brother, Frederick Haury, her sister, Magdalena Haury Carl, her sister, Mary Ellen Haury Hutchison, and her stepson, Dennis Bell. She is most remembered by her family and friends for her humor and her style, and is survived by her daughter, Michelle Bell of New Orleans, Louisiana; her stepdaughter, Karen Kidd of Abilene, Texas; her sister, Teresa Haury Caple of Bryant, Arkansas; her nephew, Guy Caple, her nieces, Janet Cuffman, Paula Jaicks, and Kelly Carlton, and all their families.
She was always there for her family, no matter what, and the world without her will be far less rich and far less funny.
In lieu of flowers, the family requests that donations be made to the Circle of Life Hospice Home at Legacy Village, 1201 NE Legacy Parkway, Bentonville, Arkansas 72712. A Celebration of Life will be held at 10 a.m. Friday, August 4, 2017 at the Apple Blossom Retirement Community, 2501 N. 22nd St, Rogers, Ark. 72756. Condolences at www.beardsfuneralchapel.com.
Published August 3, 2017
OBITUARY SUBMITTED BY:
Beards Funeral Chapel
855 S. Happy Hollow Road, Fayetteville, AR
Phone: 479-521-8551
http://www.beardsfuneralchapel.com